All-Star Sports Climber™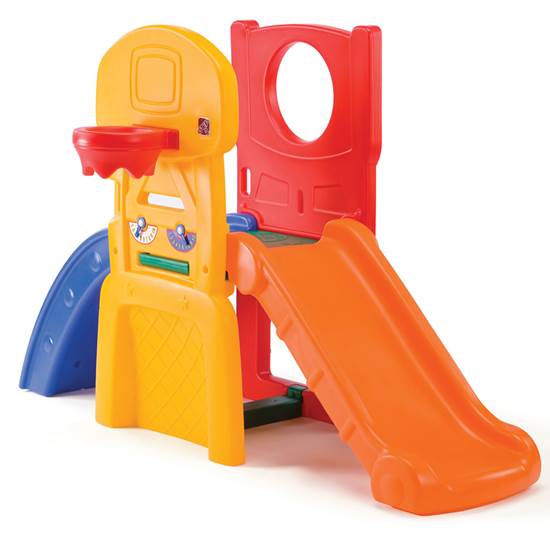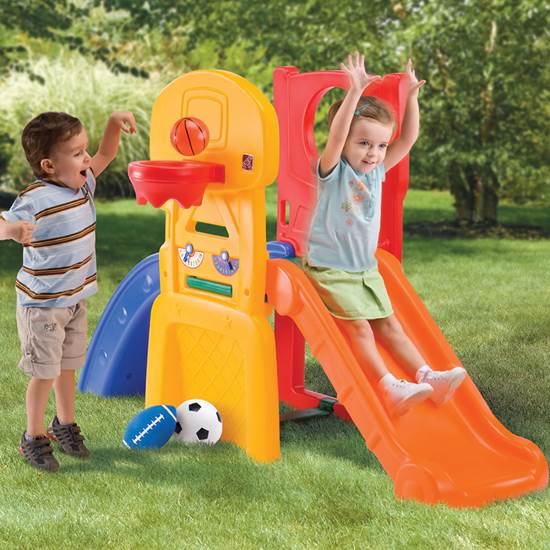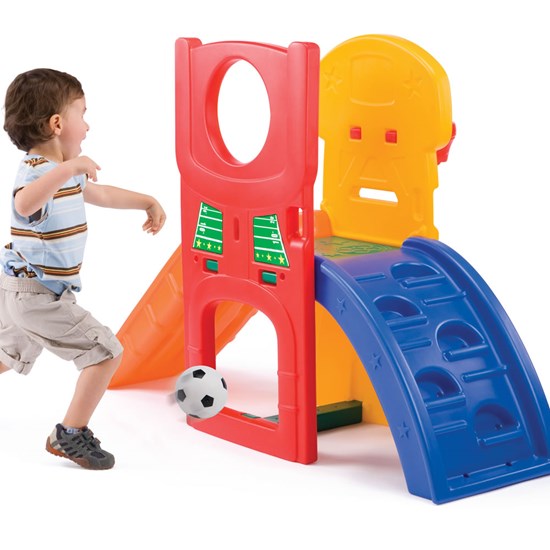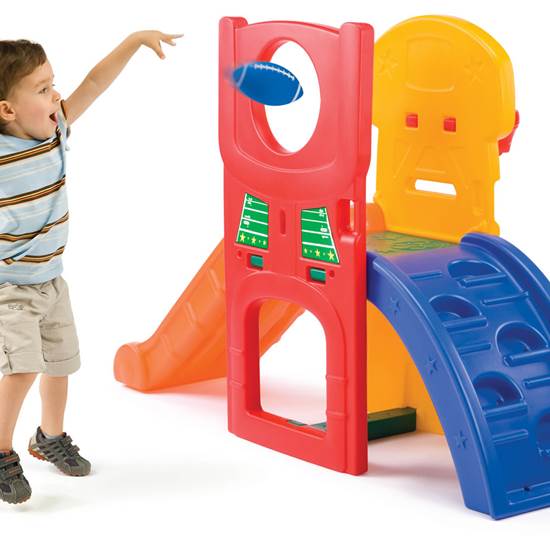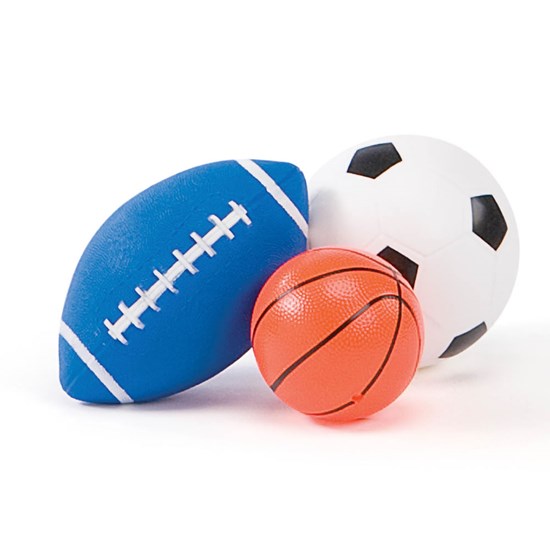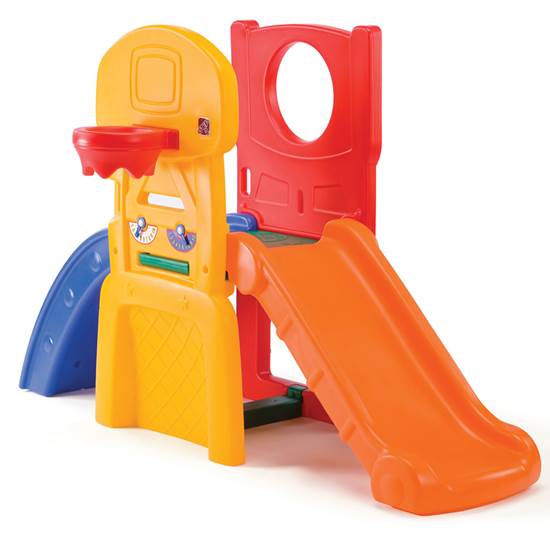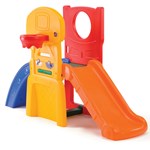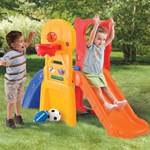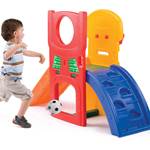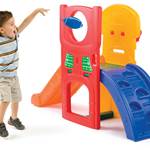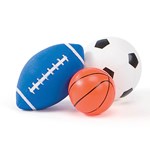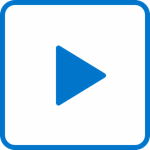 All-Star Sports Climber™
In stock
$106.99
+$12.99 shipping (via FedEx)
IS THIS A GIFT? DON'T SPOIL THE SURPRISE!
This item ships with an image of the product on its outer packaging.
Rated 4 out of 5
by
Deniroxo_
from
Best Christmas gift
The All-star Sports Climber is just what I expected! I purchased this as Christmas gift for my almost 2 year old. His was father was afraid the side would be too short but it's perfect! Very easy to put together and very easy to move! The basketball goal, soccer goal, football toss, wall climber and slide keep him occupied! I think we will get a few good years from this! I love the fact that it's indoor/outdoor use! We have it inside right now due to the weather but as soon as it warms up we are taking this outside. But it is just a tad bit flimsy that's my only complaint.
Date published: 2019-01-11
Rated 5 out of 5
by
LIL PHILLIP's MOM
from
MY SON LOVES HIS SPORTS CLIMBER!!!!!!!!!
Since I purchase this All-Star Sports Climber, it was easy and fun to install. Since I keep it as an indoor toy, my 16 month old son stays active and enjoys every moment to climb and slide down on it. It has other great activities that he enjoys; playing basketall and kicking the soccer ball in the goal. Another good reason why I purchase it because it's VERY STURDY and was the right size for him. As a 1st time parent, I reasearched all other slides that were cheaper but none were STURDY or had a more SAFER Slide than this one. I definitely recommend to purchase, [...]
Date published: 2009-06-04
Rated 5 out of 5
by
Anonymous
from
Great Gift Idea
I bought this slide as a gift for my 15-month-old Godson. I wanted a slide that had enough room at the top, and high enough sides that he could easily get into position to go down the slide. I also wanted a slide long enough that he wouldn't outgrow it too quickly. The sides are plenty high enough for him to brace himself on. He loves the balls that came with it and they go down the slide as much as he does! The best part is that this product is stable enough that his mom doesn't have to hover over him while he plays. She says that he will play on it for hours, giving her a much needed break, and that it also wears him out so that he takes good naps and sleeps better at night. Overall I am very pleased with the All-Sports Climber!
Date published: 2013-03-04
Rated 4 out of 5
by
Anonymous
from
Toddler hit!
This was a gift from us to our toddler for his second birthday. He played with it inside for a few days then we moved it to the deck. He loves climbing up and standing on top. The slide is faster than I thought! He really likes the basketball too. We just have to get a pump for the balls (now he is throwing the balls without air through the hoop but he doesnt seem to mind!) I put some padded mats under the slide since it is so fast and he has not learned to stop yet. He played with it with his three year old cousin and she also enjoyed it!
Date published: 2011-05-18
Rated 4 out of 5
by
cappygoat70
from
All-Star Sports Climber by Step2
The instructions were easy to understand but often caused for the use of brute force. I am a woman and it was difficult to "stomp" certain connections together. I had to lay the structure down and use my full body weight to connect some pieces. The illustrations even showed a large foot with a combat boot demonstrating assembly. I do feel my little one does need to develop/age into more appropriate use (14months at time of receipt) but she does spend time on the climber and it does facilitate play/interactions with an older sibling.
Date published: 2010-01-19
Rated 4 out of 5
by
Anonymous
from
So excited about this slide!
I am so happy that I purchased this product! I have been researching slides for my 18 month old, and settled on this one because of the size and the other activities attached. She loves it! It is the perfect size for her, but I can easily see her being able to use this until she is 3 or 4. She loves the little basketball hoop, too.My only complaint is that the bottom brace bar was REALLY difficult to get into place. It requires a lot more brute force than I could give it. All the other pieces were easy to get into place.
Date published: 2009-05-02
Rated 4 out of 5
by
Tip and Rip's mom
from
my kids love this!
I bought this for my son's first birthday, hoping it is something that will grow with him. I am very pleased with my purchase. He isn't able to use the basketball hoop or football hole yet, but that is something to look forward to. He is able to climb and use the slide and he also loves to crawl underneath it. I do think it will be great as he gets older and can do more. My 3.5 year old daughter also loves it. It appears to be just a bit wobbly when she is standing on it, but it is just as safe in my opinion. Great product!
Date published: 2009-07-31
Rated 3 out of 5
by
Anonymous
from
All-Star Sports Climber
My 15 month old received this as a Christmas gift and played with it for a few weeks. 8 months later, he will only play with the slide when prompted, otherwise he ignores it. Stairs or a ladder would be easier to climb as he has trouble getting his shoes in the holes. The slide is very sturdy and he does like the basketball goal.
Date published: 2009-08-25
Rated 5 out of 5
by
watchful parent
from
Great toy. Would highly recommend!
I bought this for my 1yr old son to play with in our family room for days when the weather just wasn't pleasant enough to go outside or to the park. This turned out to be a HUGE hit with him and any other kids that come to our house. My son is almost 2yrs old now and still plays on this every single day. He loves the slide and even plays peek-a-boo by crawling under it and hiding (he's tiny for his age) but even still, 4 and 5yr olds that come over have a blast playing on it. I would purchase this again in a heartbeat!
Date published: 2010-09-02
Rated 5 out of 5
by
Grandmother of Climber
from
I would buy this again
My little granddaughter has become an excellent climber and wants to climb everything in the house.My daughter felt like she was constantly telling her no and was worried she would fall and get hurt. I thought a small slide would be great but when I looked on the internet I saw the all star-sport climber and purchased it. She loved it! I believe it is her favorite toy. She stands on it,slides,plays hid and seek, climbs all over it and enjoys throwing the balls.It was the perfect gift for my 18 month old granddaughter.
Date published: 2010-05-08
Rated 5 out of 5
by
Anonymous
from
Love, love, love this!
We bought this for my grandson's 1st birthday. He enjoyed it SO much and played with it constantly when he came over, we decided to send one to my nephew for his 1st birthday and my neice for her's as well. It was great for inside during the winter and outside in the summer. For my nephew in Arizona, he uses it outdie in the winter months and inside suring the summer months. This year my grandson turned 3 and we put it in the pool so he could slide into the pool. He still Loves loves loves it! Many days of fun!!
Date published: 2012-12-09
Rated 4 out of 5
by
Anonymous
from
Great and safe for yor little climber
The best thing about our climber is that its not so bulky that you cant take it anywhere. It was rainign fo rlike 3 days straight when it got delivered so we decided to go ahead and put it together in the house and it was great becasue it slips through the door easly and we bring it in at night if our son has company and we even took it to gandmas with us fo rthe weekend, just tossed it in the back of the truck and took it with us so I just really like it because he loves it and it goes where we go.
Date published: 2009-04-18
Rated 5 out of 5
by
Jonah's Mom
from
Perfect for my little boy
We bought this for my 12 month old little boy for Christmas this year and it has been a big hit! He learned to climb the rock wall by himself after having help only a handful of times. He can climb, turn around, and slide down all by himself. And he loves to push balls (included) down the slide too. We use it indoors with a play mat under it for now but plan to move it outdoors in the spring. It's great for a one year old...with close supervision, of course. Definitely worth the money!
Date published: 2009-01-05
Rated 4 out of 5
by
Anonymous
from
Wonderful and sturdy for boys
There is really nothing wrong with the all sports climber. Keeps my boy very occupied and busy for hours. We were with all intentions going to keep it outside but with our acres/land, our boy wanted to keep it inside.Plays on it just as hard as if it was outside.Wonderful product and I think that your products are truly awesome. Plan on getting more from ya'll in the future as well.Thank-you for making such safe and durable products/toys for the children!Keepy it up!Sincerely Happy Parent,
Date published: 2009-05-02
Rated 4 out of 5
by
Jersey City Maman
from
Fantastic for the cold-weather playdates
We live in Northern New Jersey and it's getting a bit cold outside for daily visits to the park and other fun activities. I decided to get this for my very active 18 month-old. It's fantastic. He loves it, and it's great for those rainy day playdates. I would recommend getting a mat for underneath if you're using it indoors as we are. It really doesn't take up that much space and it's worth it for the hours of joy. We'll probably move it into the backyard once the weather heats up again.
Date published: 2009-11-16
Rated 4 out of 5
by
Anonymous
from
A little dissapointed
Bought this for my daughter's Christmas gift. She's still a little young to use it often, but she's happy to see it. I'm glad my husband is handy to put this together because it's not easy without some muscle involved. [...]We're disappointed because there are a lot of scratches on the siding and I don't want to waste time and money to return such a big item. Other than that, item is good for kids.Oh right... the balls are a bit hard to blow since you need the pump that has needle.
Date published: 2011-01-14
Rated 5 out of 5
by
Anonymous
from
Perfect for my 20 month old
He hasn't yet figured out the hole for playing soccer, but he loves climbing up with toys and pushing them down the slide. He also likes the basketball hoop. I'm sure he will still be using this until at least 4. He's very tall, so I was worried he wouldn't have the wiggle room to get his legs underneath him to slide, but he does. No problems at all. Make sure you have a bicycle pump. I had to go buy one...I needed one anyways. Otherwise, it's a good product.
Date published: 2011-04-09
Rated 3 out of 5
by
Anonymous
from
not impressed...
My 2 yr old barely fit on this thing. It's a lot smaller than it seems.
Date published: 2010-12-15
Rated 5 out of 5
by
Anonymous
from
Well worth the money
I bought this for my grandson's first birthday but his three siblings, 10,9 and 7 have had tons of fun with it also(although the 10 year old would die if anyone knew).It is sturdy and I see years of enjoyment in the future.I had purchased a similar item when the 10 year old was 1 and it lasted through all of the boys.My daughter had givven it away when the 7 year old was 4 but the family she gave it to are still using it.I am very pleased with your products
Date published: 2010-09-23
Rated 5 out of 5
by
Susieequ
from
Excellent Climber and toy!
We bought this for our 16 month daughter and can I tell you it took no time for her to figure out how to climb up and then slide down. It entertained her for hours - seriously. She cried when we told her she had to go "night night". We set it up Easter Day inside and used it indoors for about 2 weeks until it was warmer out. Now it's outside and she still loves it. This is tha longest slide that I found. She actually slides down and quickly too - it's funny to see her face smile and giggle. Most slides are short and the kids don't get much of a "slide" but this one is by far the best. Assembly does require some strength to push the tabs into their slots. Other than that, pretty easy. My 8 year old loves it too. Of course the slide is way to small but she loves to stand up on the platform and "peek" over at other yards. EXCELLENT!
Date published: 2009-04-27
Rated 4 out of 5
by
mommyjaney
from
Encourages strength and mobility
My eleven month old loves this climber - it encourages him to practice climbing, sliding, creeping, and even making baskets. He feels like such a big man when he climbs the rock wall to the platform and stands up waving! Only tiny con is that that few areas that needed screws had their pilot holes drilled crooked - we had to horse on it a little to get the whole thing to fit together properly, although, now that it is together, it has been very sturdy.
Date published: 2009-05-20
Rated 4 out of 5
by
Angela the Mom
from
Great for Kids
I bought this for inside use for my 2 kids, ages 2 & 1. They love it & it doesn't take up as much space as others. It is very sturdy and I have no concerns about it tipping over or them falling. The only drawback was assembly for me. I am 5'2" and 110lbs. and it was hard to put together & if you don't screw the final screws in properly the sides tend to tilt in slightly from the top. Otherwise it is a great slide and my kids love it.
Date published: 2009-01-28
Rated 4 out of 5
by
Grandma2asweetiepie
from
Very sturdy slide
I bought this for my 12 month old grandson. He is big for his age 34 inches and weighs about 30lbs. It is very sturdy so you do not have to worry about it tipping over. He loves the slide, but still isn't brave enough to go down without holding my hand. I wish it had steps instead of the climbing wall that goes to the slide. This is just a personal preference as I do not have steps at my house and would have been nice to have him practice on them.
Date published: 2015-08-04
Rated 3 out of 5
by
BuckeyeVet
from
Gets bored with it
I bought this product for my 18 month old son who has discovered all the joys of climbing. He loved it for the first week. He kept climbing up the wall, going down the slide and would occasionally put the balls through the hoop.Unfortunately, a month later, he's completely bored with it. In fact, he won't play with it at all. He is still playing with other toys we bought him at the same time, however.For the price, I think this toy is a bust.
Date published: 2009-08-05
Rated 5 out of 5
by
Anonymous
from
Great for my 18-month old!
I bought this sports climber for my 18-month old to play on in the backyard. It is very easy to assemble and is sturdy. My son loves playing on the slide and climbing up the rock wall. He LOVES the balls and enjoys putting the basketball through the hoop. I recommend this for anyone with a child around the age of 18 months. Some other outdoor slides I looked at are smaller than this slide, and not as sturdy. I'm so glad I found this one!
Date published: 2010-05-29
Rated 5 out of 5
by
Anonymous
from
Everything I hoped for!
When searching for a multi-purpose toy for my 15-month-old son, I came across this on the Step2 website. Since I didn't want to pay shipping charges, I searched all over town and finally found ONE in stock at a [...] This was everything I hoped for. The website did a great job of describing it and showing pictures. Our son is just learning how to use it, but he seems to be really enjoying it. I can see him using it for a couple more years.
Date published: 2009-04-30
Rated 3 out of 5
by
Concerned Mommy
from
Nice climber...I guess
While it may seem that only having a few parts would be easy to put together, it wasn't! It was tough to get some of the pieces to pop together, and the directions could seriously use a re-vamp to help with explaining how to do it. In my opinion the overall material is relatively strong, but after only a couple weeks of use, I can see that one side seems to be slightly caving in...this very much concerns me for the safety of my child!!
Date published: 2010-09-10
Rated 5 out of 5
by
Anonymous
from
Great Climber!
We gave this to our son for his 2nd B-day and he LOVES it!! I am happy it came w/ the basketball, football, and soccerball! He has been enjoying the balls both inside and outside. Once winter comes I can see us bringing this inside to play on also. My husband put the climber together in the time it took me to go get us ice cream so it was easy to assemble. I would recommend this to everyone who has an active child that loves to climb!
Date published: 2009-08-05
Rated 4 out of 5
by
Mom of 1... so far ;)
from
16 month old son Loves it!
I was a little tentative taking the pieces out of the box, but it was a whiz to put together! The slide seemed a little small, but my 16mo loves it! He can already climb up and slide down all by himself! We put it on our deck and then the weather turned on us and it snowed overnight- the climber was still in perfect condition the following day! It is rather light though- so if you live in a windy area I'd advice keeping it inside.
Date published: 2010-04-02
Rated 4 out of 5
by
Anonymous
from
Love it!
My 22 month old daughter loves it!! In fact, several of the kids in the neighborhood around her age love coming over to play on it. I'm so glad I waited and ordered it, instead of buying something else at the store. It will last longer (age-wise) then the other at the store. The only thing is I would assemble it a bit differently (to make it easier) and the hoop won't stay attached. We had to find another way to make that work.
Date published: 2009-04-16
Can the basketball hoop be lowered?
The hoop to the All Star Sports Climber™ is not adjustable.
Date published: 2020-08-07
Can I purchase just the balls? Dog popped the original balls for the climber set I purchased
Yes - Replacement parts and decals can be ordered by calling our Customer Service team at 1-800-347-8372, Monday - Friday, 9:00 am - 3:00 pm EST. Please have your product close by during your call so that we may quickly assist you to answer your question, find a resolution and or provide product or part pricing and lead-time(s). Various replacement parts and decals can now be ordered on line. Check our website at www.Step2.com and refer to the replacement part section located at the bottom of the website page and shop parts by category or look up your product(s) pertinent replacement part choices.
Date published: 2021-06-10
How do i get replacement parts?
You can call The toll free number 1-800-347-8372 for replacement parts 
Date published: 2020-07-16
Are the two football field and two scorekeeper stickers available for replacement ? 
You can find replacement parts available for sale on Step2.com, or contact our Consumer Services team at 1-800-347-8372 Monday - Friday, from 9-3 ET and we will be happy to assist you further with this request.
Date published: 2021-07-04
I dont see any where for the screws to go any pictures?
It doesnt require screws
Date published: 2019-12-27
What's the footprint dimension after assembly?
Once set up, the All-Star Sports Climber™ the dimensions are 43.00 in Height X 63.00 inches in Width X 30.00 inches in Depth.
Date published: 2020-10-02
Once assembled can this be disassembled and still go back together properly?
The All-Star Sports Climber™ may be disassembled and reassembled with caution to not enlarge the holes where the screws attach.
Date published: 2019-06-11
I cannot get the bottom piece snapped in?
Please contact our Consumer Service Specialists at step2-company@step2.net or 1-800-347-8372 Monday through Friday, 8AM -5PM Eastern Standard Time and we will be happy to help you.
Date published: 2019-05-02