Grand Walk-In Kitchen™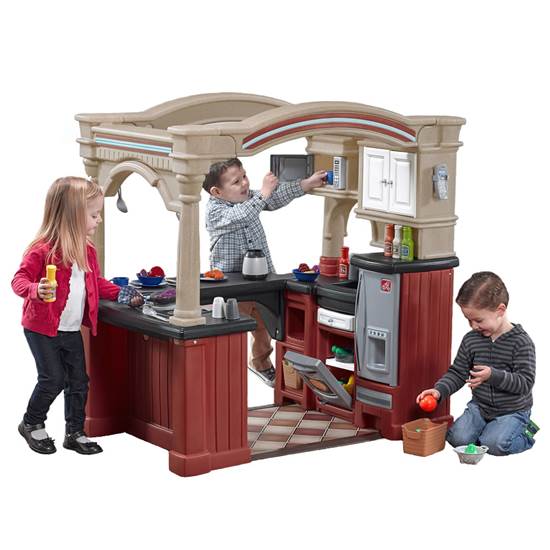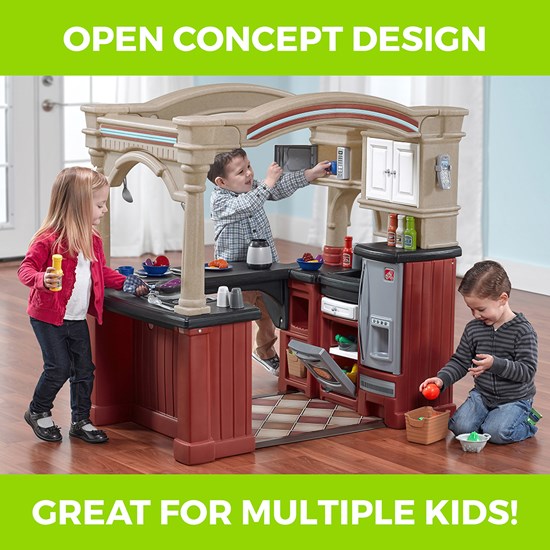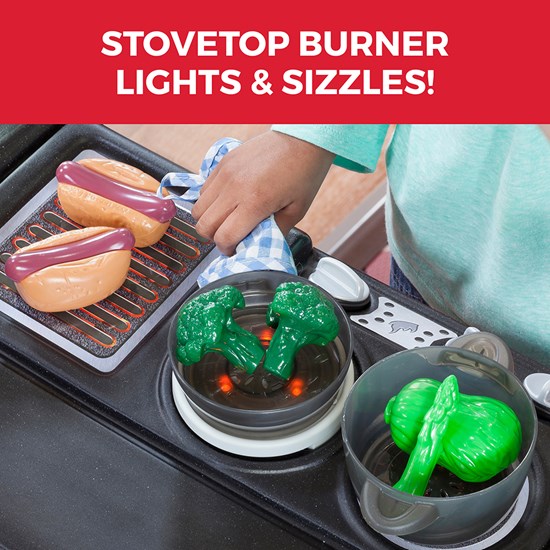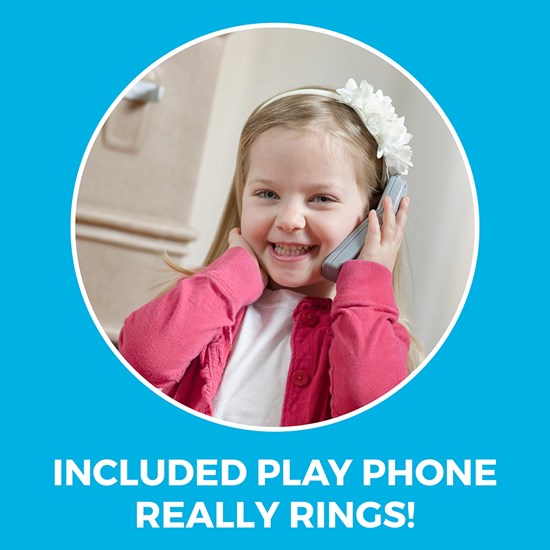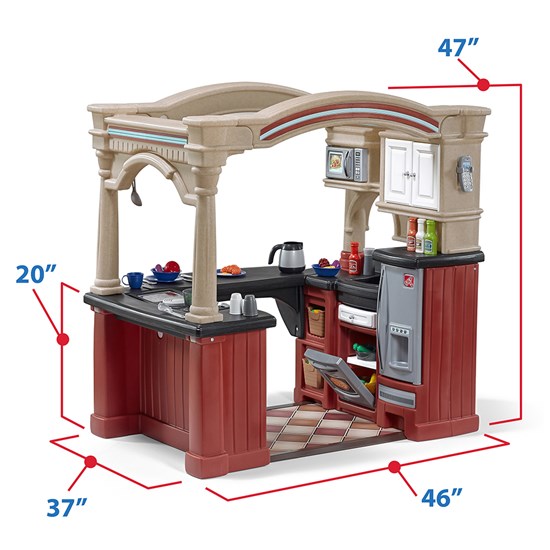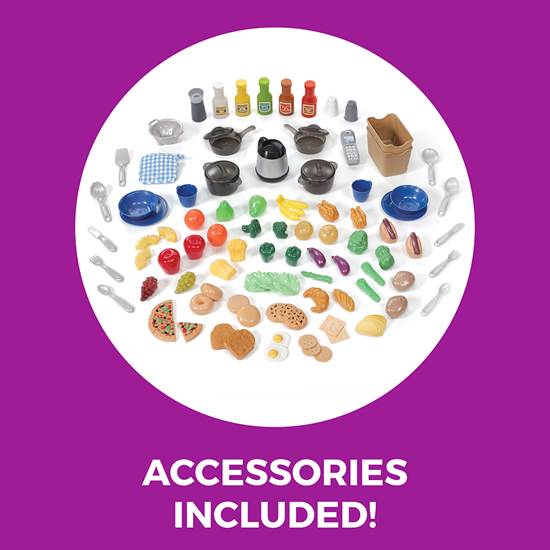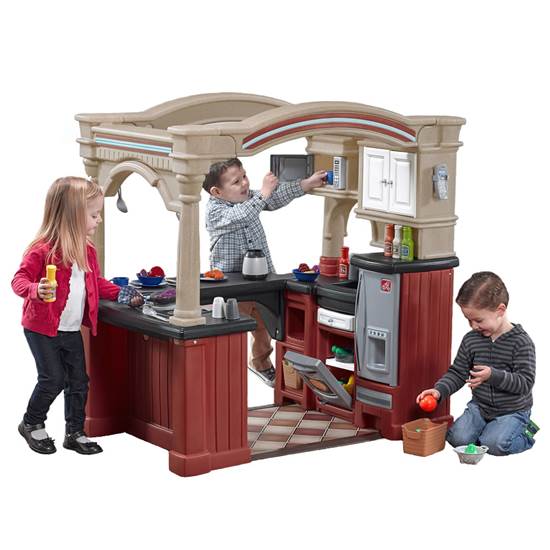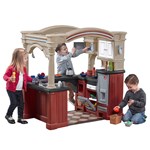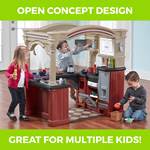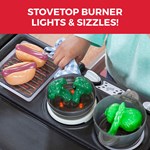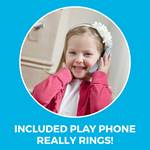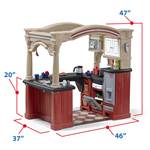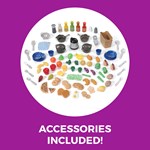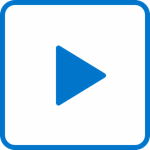 Grand Walk-In Kitchen™
In stock
$274.99 $269.99
+4.99 shipping (via FedEx)
This deluxe kitchen playset has tons of realistic features and stations for kids to play together!
IS THIS A GIFT? DON'T SPOIL THE SURPRISE!
This item ships with an image of the product on its outer packaging.
Rated 5 out of 5
by
Annalyse
from
Love it
There are not many recent reviews! I am so glad i bought this for my 2 & 4yo! I was worried about the size being a problem for my 1050sqft home, but it isnt a problem & the colors blend in with my color scheme! My kids are able to climb and be rough with this with no problem. There is not much storage space for all the food/pots/pans/cutlery provided with this kitchen! but we make it work!
Date published: 2020-01-16
Rated 5 out of 5
by
chrissy G
from
This an AWESOME toy Kitchen!!!
I first would like to say Thank You to Step2 for giving me the chance to be a toy tester and test this toy!! My children absouluetly LOVE it!! It only took my husband about 30 mins to assemble and its been nothing but fun since!! It keeps my children amussed for hours!! They enjoy it so much!! It is like a REAL kitchen!! Couldnt as for a better Toy Kitchen!!!
Date published: 2015-09-29
Rated 5 out of 5
by
Savannah
from
Highly recommend!!!
Our first grand walkin kitchen was damaged when we moved. My daughter was so sad because she didn't have her kitchen. I bought her another one for her birthday recently and it brought tears to my eyes to see how excited she was to have a kitchen again! It was an easy assembly and the shipping price and time were amazing!!!
Date published: 2016-11-14
Rated 5 out of 5
by
Anonymous
from
One happy 3-yr old Cook.
Our three year old loves it, has been playing with it since Christmas morning. She has "cooked" for her sisters, dolls and elves.It was about an hour to assemble, mainly just screws and decals. Phone and grill have sounds ( a bit low volume on the phone - which may be a blessing in disguise). Looks and feels solid,
Date published: 2016-12-27
Rated 5 out of 5
by
Tlh1682
from
So much fun!
My son loves to help me cook, so we bought this for his 3rd birthday. It's amazing! Not only did he have so much fun with it, his 7 and 10 year old sisters did too! They play with it together everyday. He feels so special to have a toy his sisters like too! And I love that it's built to last and so cute.
Date published: 2018-11-28
Rated 4 out of 5
by
Aughe
from
This product is awesome
I was looking for a birthday gift for my child that was turning two. I came across this particular product and loved the reviews and that there were no cons. I would recommend this product to anyone buying this for a child or children that love to emulate parents in the kitchen or at restaurants
Date published: 2016-03-17
Rated 5 out of 5
by
Anonymous
from
Yes, I would recommend this!
I bought this kitchen set for my 4 year old granddaughter for Christmas! She LOVED it!! The product was easy to put together but is very detailed. However, the details are incredible and make this set feel like a real kitchen! It surpassed my expectations. I would recommend it!
Date published: 2017-01-04
Rated 5 out of 5
by
CLARENCE
from
Fun for all ages
My kids love their new kitchen. A little hard to keep all food that goes to the kitchen in the kitchen but i find they act out what they just saw us doin to make their own meals. Even the older kids (10+) gravitate to it when they all go and play. Glad Santa delivered! ;-)
Date published: 2017-01-05
Rated 5 out of 5
by
Xoxo
from
Occupied Child
I surprised my 19 month old with this kitchen for Christmas. She ABSOLUTELY LOVE it. She's constantly "cooking up" something. Also very helpful to teach her the names of the different foods. When she's playing in her kitchen I am able to complete tasks. Easy to assemble.
Date published: 2020-12-30
Rated 5 out of 5
by
Anonymous
from
Grand walk in kitchen review! Awesome!
Would like to start by saying thank you to Step 2 for letting me participate in the Step 2 toy tester program. This kitchen is very durable, easy to assemble, and realistic. My 3 year old son loves the sounds all the food that came with it. Keeps him busy for hours!
Date published: 2015-10-01
Rated 4 out of 5
by
Anonymous
from
Great toy
My daughter loves the kitchen. It was fairly simple to assemble. It takes some time but not difficult at all. Pieces were missing from the order which wasn't great because it was her Christmas present but Step 2 was great about sending them out in a timely fashion.
Date published: 2017-01-05
Rated 5 out of 5
by
Anonymous
from
Love this kitchen!!!
This has been one of the best toys I have ever purchased for my kids. They both love it and play with it non stop. They wake up and immediately start playing with it and they have even become interested in cooking! Thank you step 2!!!
Date published: 2017-06-03
Rated 4 out of 5
by
Ddeck
from
Grand kids loved it
This will provide hours of fun for our grandkids. One issue with the kitchen was the step 2 emblem on the refrigerator door was pre installed upside down. This should be on one of those you only had one job. See photo.
Date published: 2020-12-27
Rated 5 out of 5
by
kristyl
from
Very happy
I bought this for my daughters 1st birthday, she loves it, it is the perfect size, durable, she pull herself up on it often as she isnt standing on her own yet. The food is a great size. Overall a great purchase!
Date published: 2020-04-05
Rated 5 out of 5
by
Marisa
from
Amazing Kitchen
This kitchen is amazing! My 18 month old daughter loves it and is great quality. It does take some time to set up and an electric hand drill is helpful but once it is together, it is wonderful!
Date published: 2016-12-04
Rated 5 out of 5
by
Working mom of two
from
Fun for One or More
Thank you to Step 2 for letting me test this item as part of the Step 2 Toy Tester Program.MY FAVORITES: DURABLE, easy to clean, storage compartments, great for kids of a wide age range.My 3 year old loves use her imagination as she creates meals or mimics other people she watches in their kitchens prepare meals. There is enough space and is versatile enough that my daughter and her 2 cousins (ages 7&9) play with the kitchen together.This kitchen will be main toy in our home for at least another 4 years. The investment is well worth it. What surprised me was the over 100 toy food and cooking utensils that was included with the kitchen.The boxes were light enough for me to lift as a mom and easy enough for me to assemble by myself. It might have taken a little over 1 hour to assemble. That includes all the stickers.The sound affects on the stove and phone make it seem more like a "real kitchen" to my daughter. The padded floor is a nice touch. The long stretch of counter space makes it easier for me to play along with her. My daughter also pulls up her toy baby high chair to the counter.
Date published: 2015-09-24
Rated 2 out of 5
by
Nyda
from
Good product
The walk in kitchen is cute but I put 2 stars because its missing pieces to it. it can also use more storage areas because of all the accessories given with it like the food etc.
Date published: 2020-12-27
Rated 5 out of 5
by
Melita
from
Satisfied with my purchase!
We are giving this kitchen to our granddaughter for Christmas. Had a couple parts that needed to be replaced and they quickly replaced them. Their customer service is A+.
Date published: 2016-12-14
Rated 5 out of 5
by
Leonard
from
I would buy it again and again
I really love this kitchen and the way it's designed...my girls love that it's spacious and you can walk in and out. It's also big enough so multiple children can play.
Date published: 2016-12-30
Rated 5 out of 5
by
Anonymous
from
Hours of fun for everyone
First let me say a BIG thanks to Step 2 for allowing us to be a toy tester. The kitchen was delivered in a timely manner and came in 2 large boxes. There was no hiding it from the kiddos, which was okay because the assembly was super easy. The only setbacks we had were a few holes not pre drilled. In the end it took about 45 minutes with stickers and all.My 3 year old daughter can't get enough of this kitchen. She pretends to be like mommy and daddy and practices her skills of cooking while baking on one side and washing dishes on the other. This kitchen really covers all aspects... setting the table, preparing foods and condiments, making tea, etc...The only con I have found is the lack of storage space. There is plenty of room under the stove to allow for storage but it's not set up that way. Does that bother my daughter, no. I just feel like it is wasted space. Other than that, my only concern is that since we've gotten this kitchen I've been late to work a few times. My daughter sits me at the attached counter and makes me coffee and donuts in the morning. Sometimes she forgets to wash the dishes the night before.
Date published: 2015-10-28
Rated 5 out of 5
by
Doug the dad
from
Super engagement for my daughter with sensory issues!
Thank you to Step2 for letting me test this item as part of the Step2 toy tester program.My 4yo daughter loved this toy! She has a sensory processing issues and is not typically able to engage with one toy very long however she played with this for over an hour the first day. This thing is large and has a lot of cabinets and food toys. Her favorite was the cell phone and the burner which are the two pieces that will make noises. The kitchen floor is squishy so she was able to kneel down and lay down in the kitchen. She really enjoyed going through all the cabinets and making plates of food. She even "fed" some to dear ol' dad. We had a great time playing with this and have played with the kitchen every day since then.Putting it together I had to use a second small screwdriver to remove the burner screws but other than that I had no issues putting it together. All in all was very easy it took me about an hour including stickers. Let me tell you I am not the best at putting stickers on but these were easy. Some of the stickers that look large and daunting are actually split into two smaller sections so they are nice and easy to put up.
Date published: 2015-09-21
Rated 4 out of 5
by
Kara
from
Assembly was quick and easy
So easy to put together and I really had fun playing with and putting this together. My girls love it! Played all day long making dinner.
Date published: 2020-06-14
Rated 5 out of 5
by
Brenda
from
Awesome product
This kitchen was way above my expectations. My granddaughter absolutely loves it. It is as close to a real kitchen you can get!
Date published: 2020-02-24
Rated 5 out of 5
by
Tam59
from
Love it!
Purchased for 2 year old...she loves everything about it! So many fun things to do in this kitchen. Highly recommend!
Date published: 2020-02-02
Rated 5 out of 5
by
Kuchtr
from
Xmas gift
Purchased this as a Christmas gift for my great-niece. Hoping all the parts are there. She will love it.
Date published: 2020-11-01
Rated 3 out of 5
by
Atayaraine
from
Not what I expected
It's nice but I expected it to be bigger it's small , the fridge is tiny . Definitely not worth $300 .
Date published: 2020-07-21
Rated 5 out of 5
by
Shalimar
from
Grand Walk-in Kitchen
It's great. She loves it and I don't have to buy a separate house since this is like one already.
Date published: 2016-09-03
Rated 5 out of 5
by
Scoobydoo
from
Great product!
Exceeded my expectations! I was pleased that it came "fully stocked" with accessories and food!
Date published: 2020-09-10
Rated 5 out of 5
by
Charles
from
Great kitchen set for boys and girls!
Bought this as a gift for my grandkids. They absolutely love it. The accessories were a bonus.
Date published: 2016-12-11
Rated 5 out of 5
by
Jham
from
Adorable Kitchen !!
Great kitchen, my toddler loves it! Very Thankful that Kitchen arrived before Christmas!!
Date published: 2020-12-28
Is it possible to purchase step 2 by itself? I have step 1,but step 2 is missing.
Regretfully boxes are not sold separately. They are only sold in pairs (1 & 2).
Date published: 2021-01-18
TRYING TO DECIDE BETWEEN GRAND WALK-IN KITCHEN & GRAND WALK-IN KITCHEN WITH GRILL. IS THE STOVE TOP/BURNER AREA LARGER ON ONE W/O THE GRILL? DO MICRO BUTTONS MAKE NOISE OR PUSH ON EITHER MODEL? PHONE? BURNERS/GRILL? WHAT ARE MAIN DIFFERENCES IN 2 MODELS?
Both the Grand Walk-In Kitchen™ and the Grand Walk-In Kitchen & Grill™ feature an electronic phone and stove top burner. The Grand Walk-In Kitchen & Grill™ features an electronic grill. Neither of these have push button microwave key pads.
Date published: 2020-12-11
Can someone tell me the exact length and width after installing
46 inches length and 28 inches deep. This is an excellent kitchen! Highly recommended 
Date published: 2020-11-12
How do I purchase the microwave and stove realistic keypad for this kitchen
Please contact our Consumer Service Specialists at step2-company@step2.net or 1-800-347-8372 Monday through Friday, 8AM -5PM Eastern Standard Time and we will be happy to help you.
Date published: 2020-08-18
does it come apart easily for moving around? Or once it is together it doesn't come apart?
Please open the following link to view the instructions of the Grand Walk-In Kitchen : https://images.step2.com/media/pdfs/4977KR_assembly.pdf
Date published: 2020-11-18
Do you sell the sticker for the GRAND WALK-IN KITCHEN™. The sticker are pilling off and i would like to get a new set to replace them
I do not have the stickers. I used mine. My apologies for not being much help.
Date published: 2020-08-02
What's the height of the beam? Our granddaughter is 8 and turning 9 in a few days and about 90 cm tall. Will this Kitchen set be appropriate for her?
The entrance to the Kitchen is 109 cm. The top is open. My granddaughter is only 1, and only stands while holding on to the kitchen cupboards. She LOVES this kitchen and spends hours opening and closing the doors and cupboards. Im not sure if it would entertain a 9 yr old or not? My last granddaughter was cooking in my kitchen at the age of 7, making pudding and baking cupcakes with my help. Its very cute, well made. I also purchased the country kitchen for my granddaughters house. It has everything this one has but smaller and open.
Date published: 2020-07-25
What are the dimensions inside the oven with the door closed. Trying to buy pans to fit in there?
The oven dimensions are 5 1/2 inches deep and 6 1/2 inches wide. Oven has a movable  slide out shelf in the middle. 
Date published: 2020-06-24