Lifestyle Custom Kitchen™-Blue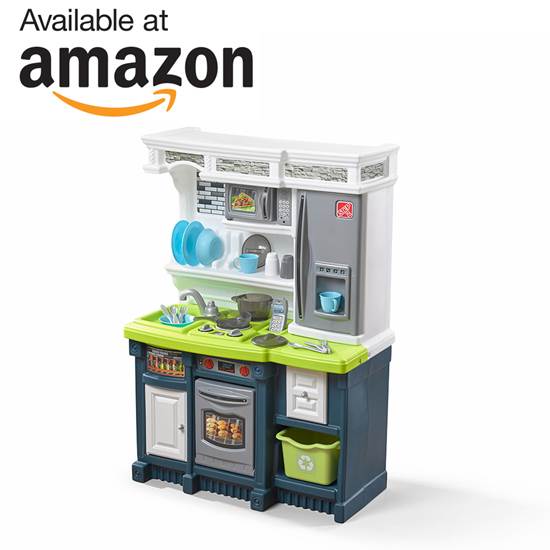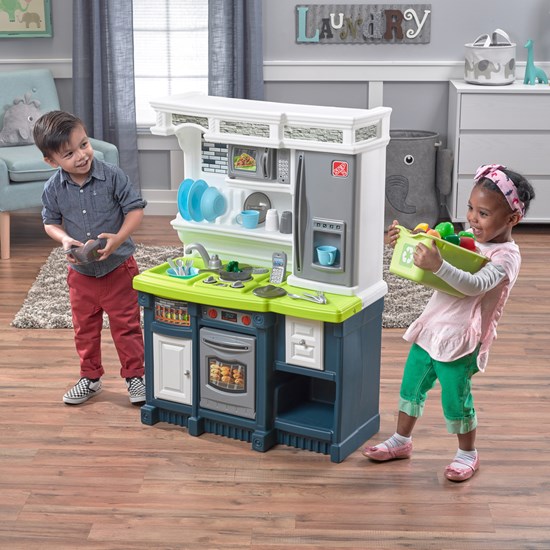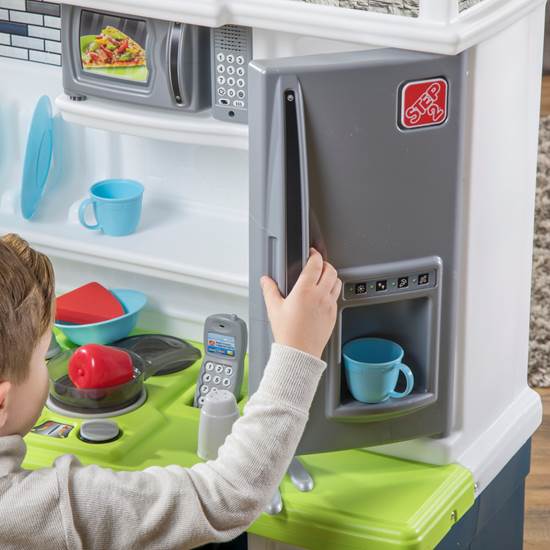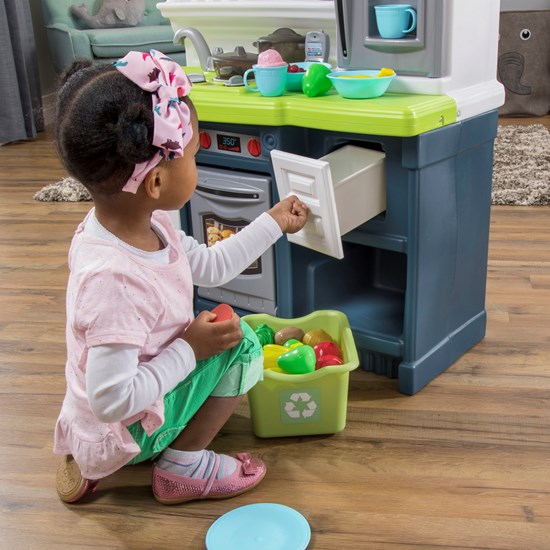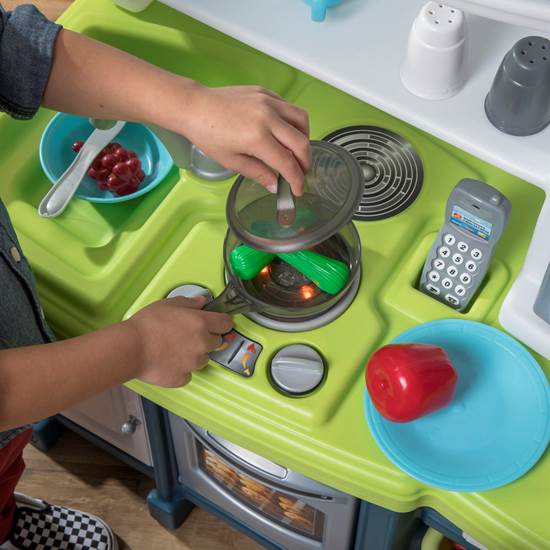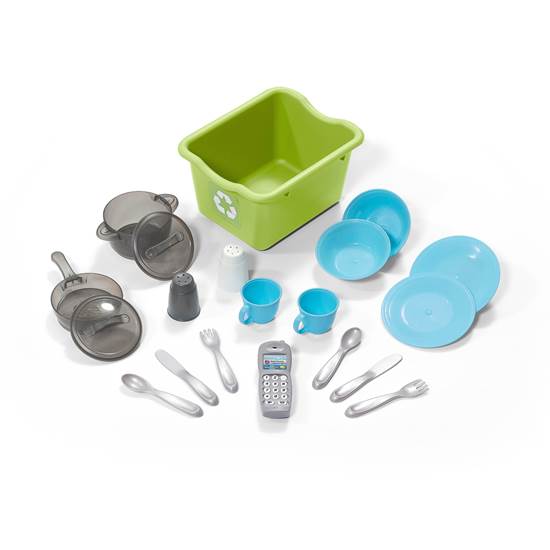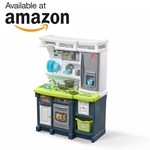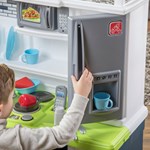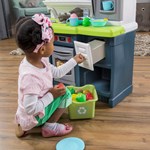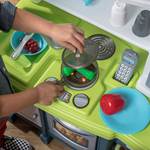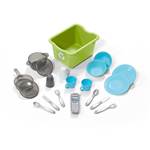 Lifestyle Custom Kitchen™-Blue
IS THIS A GIFT? DON'T SPOIL THE SURPRISE!
This item ships with an image of the product on its outer packaging.
Rated 5 out of 5
by
Anonymous
from
I Wish I Had This Kitchen In My House! :)
My grandson is at an age where he watches what we do and likes to imitate what he sees. The Lifestyle Customer Kitchen let's him "cook a meal", "wash dishes", "use the microwave" and "talk on the phone" just like he sees us doing. This is definitely something that he will play with for a long time to come.It's the perfect height and it doesn't take up a lot of space in my house.The quality is excellent and the price was even better. I love that I was able to put it together by myself without taking up a lot of my time. I definitely recommend this product!
Date published: 2016-10-23
Rated 5 out of 5
by
Nana4Life
from
Kitchens: Not just for toddlers anymore.
My grandson is 6 and still loves to play kitchen, so when I saw that this one is designed with older kids in mind, I had to get it. I'm so glad I did - and so is he. It's very sturdy and has great stickers to give life to the drawers, walls & appliances. Assembly was easy. Only 1 hiccup: the bag with all the knobs, screws, faucet, etc.. did not contain the faucet and handles. But, one quick call to the Step 2 company and one week later, we had everything we needed and more. Their customer service was spot-on. I highly recommend this kitchen.
Date published: 2020-11-21
Rated 4 out of 5
by
Anonymous
from
Good, except . . .
My granddaughter was delighted at her first glance, and the kitchen is nicely designed. She loves playing with it. However, two issues: in putting it together, we had to bust through the plastic to insert the screws, there was no hole and no mention of the need for a drill. Also, the refrigerator door won't close properly, though all seems to be square, and that makes her two-year-old frustration pop out.
Date published: 2016-01-08
Rated 4 out of 5
by
Mojo
from
Big hit!
My son loves his kitchen. I asked Santa to bring this one because of the buttons on the phone, and microwave! My son loves the phone and takes it everywhere. I think the unit is a nice size. We are able to add many toys to the kitchen with plenty of storage room. I think it would be big enough for more then one child to play with at once. It's very comparable or better then the ones I saw in stores.
Date published: 2014-01-17
Rated 5 out of 5
by
Anonymous
from
A great buying experience
Although I have yet to set up the kitchen (as I bought it as a Christmas present for my son), I have to say I am extremely satisfied with Step 2. The price offered on their website beat anyone else's price, and the delivery was impeccable. I particularly liked that Step2 offered the option of having the kitchen delivered in a non-descript box so that my son would not be able to see the kitchen when the box was delivered. I have purchased many step2 products, and I find that the workmanship and functionality of their products is superb.
Date published: 2016-10-20
Rated 5 out of 5
by
Smiths13
from
We love it.
I really like Step2 products. We own many Step2 toys and i love them as much as my kids. Very colorful, easy to clean and pretty durable.I have chosen this kitchen ONLY because of its bright colors. I knew from the very beginning that it is small (i see people complaining that it is smaller than they expected). If you have two kids...get a different/bigger kitchen. This kitchen looks great in my kids bedroom. We have it for more then 3 months now and everything works great.I was choosing between KidKraft Deluxe Big & Bright Kitchen (large, wooden, very pretty) and LifeStyle Custom Kitchen - Brights by Step2 ...Step2 won! I like that it is easier to clean and has lights & sounds. Yes, it is on a smaller size, but i prefer to have a small kitchen that is used every single day, than a big one that is standing in the corner covered in dust. For kids 4 years old and under Step2 would be my #1 choice.
Date published: 2014-07-11
Rated 5 out of 5
by
Anonymous
from
Best kitchen yet
This by far is the best purchase I have made for my son. He's 19 months old and this is exactly what we needed to entertain him while also letting him learn. He loves to play pretend and I absolutely love that the pot and skillet make noises on the little burner. Very easy to assemble and love the look it's very gender neutral. Thank you step 2
Date published: 2017-04-09
Rated 5 out of 5
by
Anonymous
from
Step2 Custom Kitchen
Thank you Step2 for the opportunity for my 3 year old. Lately she has been watching a little too much t.v. I saw the opportunity to apply to be a toy tester and was chosen. When we received the box my 3 year old was super excited. When my husband and I were putting it together she could not wait until it was assembled (she even helped). Now that its assembled she has non stop play. She loves making cakes and other goodies. I love the sound feature that come out of the microwave and stove. Thank You again Step2!
Date published: 2015-09-26
Rated 4 out of 5
by
KrisBelle
from
Kitchen Fun
I love this kitchen for our 1 1/12 year old. She plays with it non stop. It has lots of options to open and close and it a neutral color that is nice for any gender. The noises from the stove, microwave and phone are wonderful, although the phone noises are very hard to hear. Also a couple more sounds would be nice. My only other suggestion would be a couple hooks to hang the play cups on and a little bit more storage space either counter or another drawer under the sink or somewhere. Would definitely recommend!
Date published: 2016-08-10
Rated 5 out of 5
by
Tyler Sandell
from
Awesome kitchen for the kids
Thank you to Step2 for letting me test this item as part of the Step2 toy tester program.First i want to say that when i set this up my girls freaked out! Not only is it super easy to set up ( only needed a screwdriver and about ten minutes) but there was not allot of small pieces for me to lose.The interactive microwave, phone and stove are by far my favorite and i can not tell you how many times i have had my girls ask if i want spaghetti or bacon cooked with the burner that lights up and makes noise for the pan and pot. The extra storage is great for extra food for them while they are not playing with it. All in all this is a great product and i loved it as much as my kids do. Seeing their imagination grow with this product is definitely worth purchasing the Lifestyle Custom Kitchen.
Date published: 2015-09-23
Rated 5 out of 5
by
Anonymous
from
Perfect gender neutral kitchen
I bought this as a gift for my nephew, after buying a different Step2 kitchen for my sons. He lived theirs so much, but his father wasn't too keen on his son having a kitchen. I went with this one because I thought it was more gender neutral with all the different colors. He absolutely loves it. He's 4, and he's especially rough on toys and he has a short attention span with most toys, but this has really held up and he plays with it for hours. Best toy I could have possibly bought for him.
Date published: 2015-12-28
Rated 4 out of 5
by
Jess1031
from
Difficult Assembly
I will preface by saying that my kids love the kitchen and now that it is finally assembled, it is a good product. I assembled the product myself and the instructions were easy to follow. However, it shows that you need a standard screwdriver for assembly but you DEFINITELY need a power screwdriver for the bigger screws. I, unfortunately, do not have one and spent 2 hours pushing long screws through solid plastic. Not fun. Note to Manufacturer: Place holes where screws need to go.
Date published: 2018-04-09
Rated 4 out of 5
by
Anonymous
from
Would recommend.
Bought this for my 1 year old grandson's bday. He is constantly in the "real" kitchen getting into cabinets and drawers, so I thought this might interest him, and it did. My daughter will put Cheerios or other snacks in the oven or other cabinets for him to find. The sizzling and boiling sounds that happen when a pot or pan is placed on the burner is a fun feature. My grandson's interest in this item will evolve as he gets older, like actually pretending to cook, right now it is more of a curiosity of the cabinets that he likes to explore. The kitchen came with several "utensils, dishes and cookware. The refrigerator door is a little stiff to open, maybe needs to wear in a little and the sink faucet is pretty loose, other wise great, sturdy toy.Also bought him the slide and basketball hoop combo from STEP2- huge hit!!!!
Date published: 2017-03-03
Rated 4 out of 5
by
Sahm I am
from
Great overall product
Why we picked this one:We bought this kitchen for our 2 yr old son as a Christmas gift. He pretends to cook at every house we have ever visited that has a play kitchen, so we decided to get him his own. We purchased this unit after very careful consideration and comparison of all the different units available. We had already decided to purchase the more traditional colored version of this unit, when I came across this fun colored unit in the "Deals" section of the site. At the time, the deal made this one a tiny bit less expensive than the other. We purchased a set of play food separately, as this comes with plates, cups, and pots.How we use it:He loves the pots that come with the toy kitchen, though he says the sound effects are too loud sometimes when he puts the pot on the burner. He plays with it daily. He cooks breakfast and supper and is always bringing me a "treat". This has been a great purchase.I only have 3 things that I do not like about it:(1) The very long screws that are required to assemble that kitchen are very difficult to get started into the plastic if you are assembling this by yourself. It involved propping against the sofa and using my knee to press the pieces together while also trying to apply force in another direction to push the screw into the plastic hard enough that it would grab. In the end, I got it in crooked and had to find a helper.(2) The pre-attached refrigerator door scrapes against the top of the kitchen making it a bit difficult to open. Toddler solution: leave it open all the time.(3) The faucet is extremely loose and just sort of hangs a bit into the sink. It looks very sloppy and there isn't a way to adjust it.
Date published: 2015-01-06
Rated 5 out of 5
by
Anonymous
from
I researched a lot and glad I found this one
This kitchen is exactly what I wanted. I spent A LOT of time looking at different options and this kitchen had it all. It's small enough for small spaces, but has the features of the larger and more expensive kitchens. The plates don't stay in place, but I think that's to be expected. My daughter loves the drawer and basket and my husband and I love the lights and noises from the stove!
Date published: 2016-07-27
Rated 4 out of 5
by
Udai
from
Wonderful Choice.
Both my son and daughter enjoy playing with it. All the knobs, functions are excellent. Its much more engaging with the cooking, microwave sounds, etc.Safe with kids and unlike few reviews, had no problem with the doors. You need some extra muscle while screwing (you basically would have drive a screw through the plastic) it together though.But nothing too difficult.
Date published: 2016-09-01
Rated 4 out of 5
by
Anonymous
from
Love this kitchen
Our two and a half year old absolutely loves his new kitchen. We put it in the actual kitchen so he can cook right along side of us. The only downside is that there are no predrilled holes for the screws so it takes a little bit of effort to break through the thick plastic. Overall great purchase for the price! He's sure to use it for many years to come!
Date published: 2016-11-19
Rated 5 out of 5
by
NYmom
from
Great play kitchen!!
Our 19 month old daughter loves her kitchen! Her dad is a chef and she loves being in our kitchen so this was a great gift for her. The colors are attractive and she loves cooking on the stove and hearing the cooking sounds. Overall is an excellent toy and I'm sure we will get many years of good use out of it!
Date published: 2013-12-15
Rated 5 out of 5
by
Anonymous
from
A Big Hit
The kids really love this kitchen. Lots to do for two 2 year olds. I like that there's multiple cookware so both can enjoy the fun. The best features are the sounds from the microwave buttons and the cooking sounds and light. The kids think they're really cooing. This has turned into a favorite.
Date published: 2016-11-03
Rated 5 out of 5
by
Anonymous
from
Sturdy and Creative Outlet for the Kiddos!
First I want to say - Thank you to Step2 for letting me test this item as part of the Step2 Ambassadorship Program. I received the item at no cost to facilitate a review.This kitchen set is durable with a simple, cute design! The realistic sound effects of the microwave, stove burner and phone add a great amount of detail to the playtime experience. My 3yr old loves to cook dinner on his stove that boils and make phone calls to friends and family while doing so! The stability of the kitchen set lets me know that we will have many breakfasts, lunches and dinners to look forward to. I also really like the size of this model. It's compact size is great for a smaller play space. At my house we're cramped for room and this kitchen set settled in nicely.One note about the assembly process I will mention is to make sure you have help! It's a little tricky to line up the pieces so the screws go in right. Also having an electric drill is key.I would recommend this kitchen set! It met all of my expectations, plus some!
Date published: 2015-08-10
Rated 2 out of 5
by
Anonymous
from
Missing key parts
Really disappointed Christmas Eve to try and put my son's new kitchen together and find that we are missing ALL the screws plus all the "bins" that come with this toy. Thankfully he is 2 and we are going to try and rig it together until we can get all the replacement parts.
Date published: 2016-12-24
Rated 4 out of 5
by
Anonymous
from
Fun for Boys and Girls!
Bright and colorful. My 14mo triplets love it. Screws came through the front of one of the bins but thankfully they're not sharp. Drawers don't fit perfectly, but they don't stick either. It's great for their current age. They love the bubbling and frying pot and pan...
Date published: 2014-12-08
Rated 4 out of 5
by
Aunty Kim
from
A perfect gift
I set this product up for my 2 year old neice and you loves it. The colors are amazing and she is so excited to play. My 2year old son and 6 year old daughter were all having a blast playing together. It is a perfect gift for creative minds to grow.
Date published: 2013-12-30
Rated 5 out of 5
by
Anonymous
from
The best play kitchen
My 15 month old son loves this kitchen!! He got it as a gift from Santa on Christmas morning and it was the only thing he wanted to play with that day. The stove makes cooking noises as well as the microwave and phone. It's a great kitchen!!
Date published: 2017-01-08
Rated 5 out of 5
by
ingy10
from
Love it!
My 18 month old son loves his new kitchen! It was super easy to set up, which made my life easy, and it keeps him entertained for hours. He especially loves the sounds and the lights that the stove top makes when he uses his pans and pots!
Date published: 2019-01-02
Rated 2 out of 5
by
kenya
from
Make sure you open the box immediately
We haven't really had a chance to play with the kitchen. Our box came without pot and pans or the burner for the stove. Customer service was great once I was able to contact them about it but we haven't received any replacements yet.
Date published: 2016-12-28
Rated 4 out of 5
by
Anonymous
from
Granddaughter fell in love...
Great product. I love the storage/cabinets. It was and still is the most played with toy my granddaughter has. Only quark was the screws. It was difficult to screw them through the plastic and I had to ask my son.
Date published: 2016-01-06
Rated 5 out of 5
by
Anonymous
from
Chefs in the Making
I purchased this for my grandson (5) and granddaughter (2) and it has been quite a big hit with both. It is well made and the sound effects make it seem like they are really cooking. It was a big hit!
Date published: 2016-10-26
Rated 5 out of 5
by
Anonymous
from
I would buy this product again.
My daughter and her cousins live the kitchen. Especially the life like sounds of the frying pan and boiling pot. We purchased additional "play food" and it has really enhanced their experience.
Date published: 2017-01-05
Rated 5 out of 5
by
GiannasMommy
from
She feels just like Mom!!
I love to cook/bake, and my daughter always wants to help. So, I purchased this as one of the "big" Christmas gifts for her. I love watching her creativity and imagination go while she creates her "Michelin Star" dishes. She now feels independent in her own kitchen. The instructions were very clear and assembly was relativity easy, however I did choose to use a power screwdriver/bits to enlarge a few holes and get a straight screw. I can not say enough about how wonderfully durable the kitchen is! We have moved it several times (Military family) and countless times within the house; up and down stairs, room to room. It's size is perfect for play rooms, living rooms and even the bedroom! The durable plastic and great craftsmanship keep it looking fresh and new. Even with its large size, it is easy enough for me to move it throught the house. There is plenty of "storage" space within the kitchen, so clean-up is very easy. (We purchased the extra food bundle as well) All the foods, dishes and pans fit nicely within the cupboards and the removable storage drawer. Something else I would like to note that I appreciate is that the stickers that come on the kitchen have a very strong bond to the pladtic, and do not peel away or off at all. My daughter is constantly "putting up pictures" and other stickers, and when they are removed the factory stickers stay nicely, don't rip, and keep the kitchen looking new. The sound effects that come from the stove are at a nice audable level, but not overly loud and disturbing to others. She uses it all the time, and the sound hasn't diminshed or disappeared at all. Overall, I'm very pleased with this kitchen, and recommend it highly.
Date published: 2018-03-05
The refrigerator and microwave doors are hard to open and shut. What can I do about this?
My husband and I just kept opening and shutting them about 20 times and they became easier to open. Our 4 year old son also was a big help to his little sister!
Date published: 2020-12-28
How do I get assembly instructions for #8569?
Please view the following link for assembly directions of the Custom Kitchen: https://images.step2.com/media/pdfs/856900_assembly.pdf
Date published: 2020-01-10
Does the fridge door open?
Yes  it does 
Date published: 2019-09-18
What is the difference between this and the fun with friends kitchen? Which has more features? Which is newer? Which is recommended for a 2 year old?
Please contact our Consumer Specialist Staff at 1-800-347-8372, Monday through Friday, 8am-5PM Eastern Standard Time for assistance.
Date published: 2019-09-03
How does the burner turn off?  The pan is off but the burner is still glowing.  
It should turn off once the pressure from the pan or pot is off of the burner. Maybe a part of it is stuck and you need to "pop" it up? Not sure, ours has never keep buzzing. Did someone spill juice or milk to make it stick? Sorry that's all I can think of.
Date published: 2019-08-06
The "stove" on my kitchen only makes sounds intermittently. (The lights however, always work.) I've replaced the battery multiple times - there's no difference. There's also no way to easily reproduce this. Any ideas on what to do?
Please contact our Consumer Specialist Staff at 1-800-347-8372, Monday through Friday, 8am-5PM Eastern Standard Time for assistance with your burner.
Date published: 2019-04-09
What are the interior dimentions of the oven?  Thanks.
The interior of the oven for the LifeStyle™ Custom Kitchen measures approximately 7 1/2" D X 10"H X 7"W .
Date published: 2019-03-05
Is there somewhere that tell you how to take apart the kitchen? 
I would look at the directions and reverse the steps. If you no longer have the directions, go online and Google the directions for putting the kitchen together...or, look where the screws are that keeps it together and remove them. Not sure if this helps!
Date published: 2019-01-15