LifeStyle™ Dream Kitchen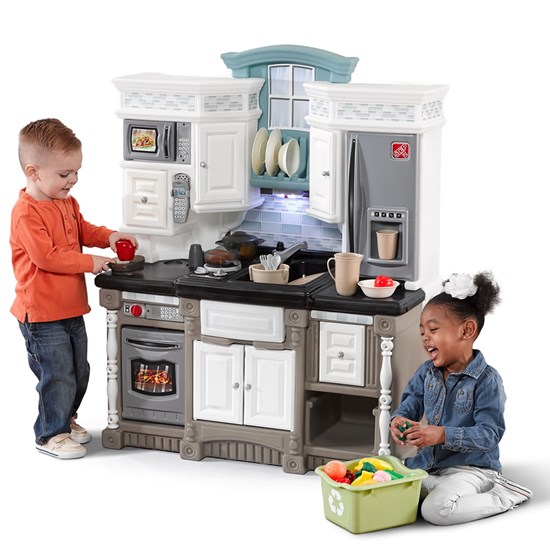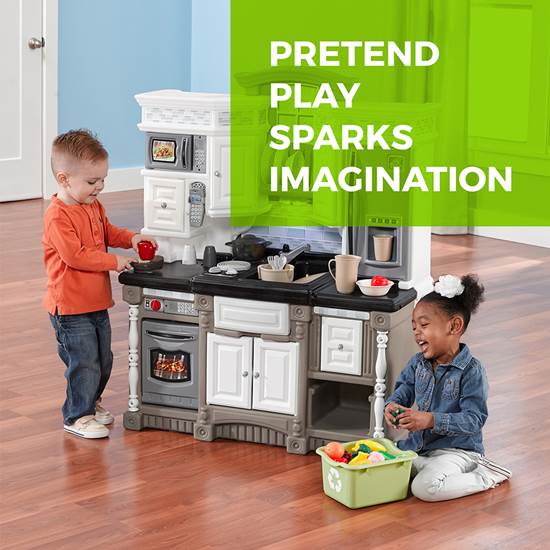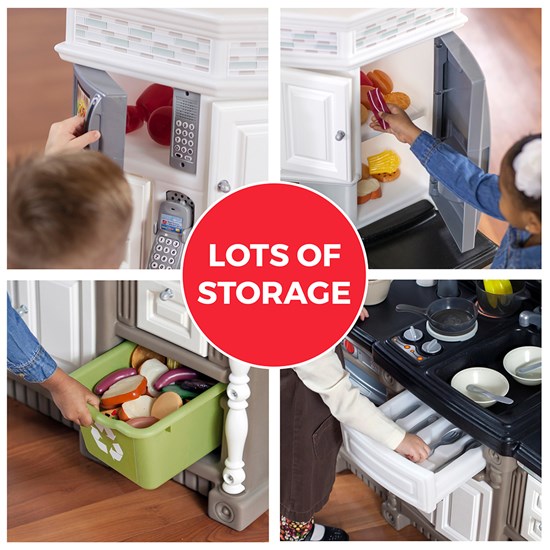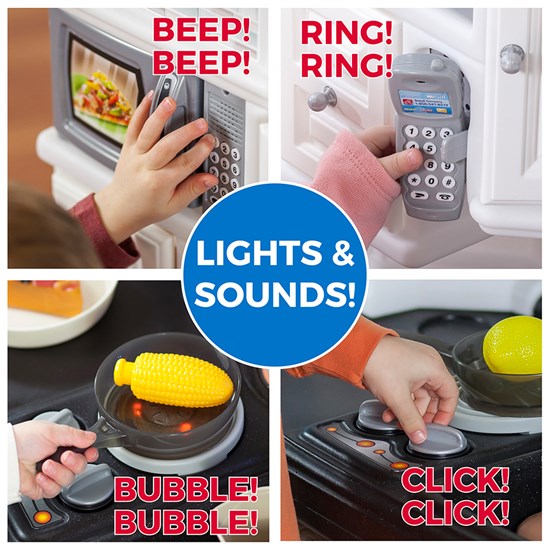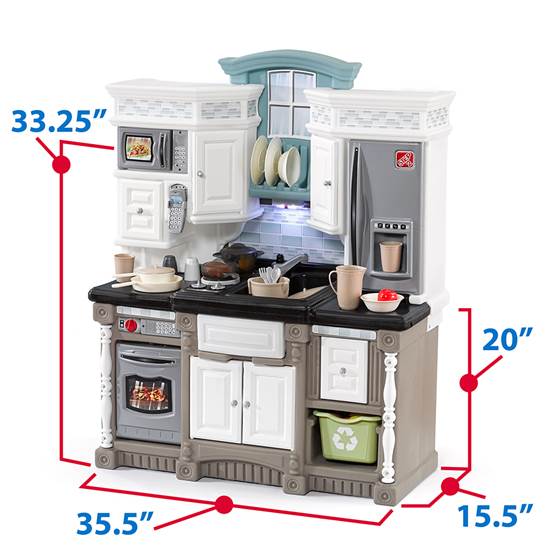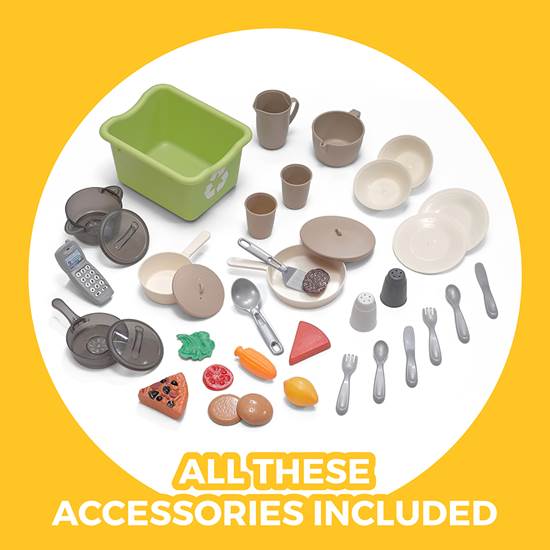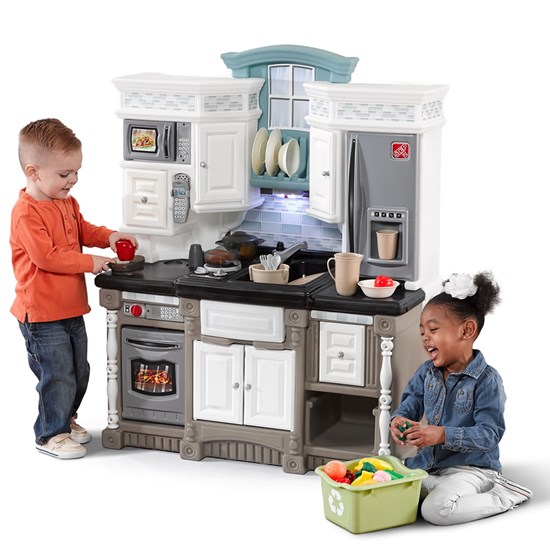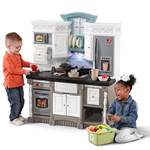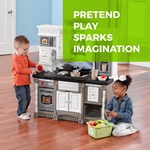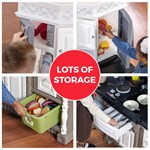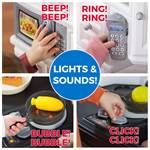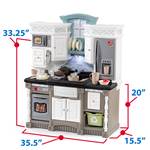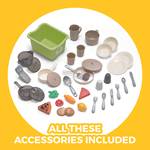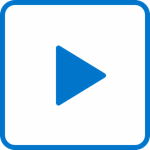 LifeStyle™ Dream Kitchen
In stock
$199.99 $189.99
+$12.99 shipping (via FedEx)
Tons of electronic features make the Lifestyle Dream Kitchen™ a must-have for junior chefs.
IS THIS A GIFT? DON'T SPOIL THE SURPRISE!
This item ships with an image of the product on its outer packaging.
Rated 5 out of 5
by
Anonymous
from
Love the Kitchen!!!
I originally bought my son an old hand me down kitchen from the 80's and he had little to no interest in it at all. So I decided to try the Lifestyle Dream Kitchen to see if I could get him interest in pretend food/drink play. He will be 3 next month and he absolutely loves his new kitchen. He loves how everything makes sounds and there are so many doors and cupboards for him to put stuff in and open and close over and over again. He loves to feed mom and dad and give us drinks from the sink. He also loves to turn the light on when he's working in his kitchen. Our home is quite small and the kitchen is just the right size. Thanks Step2!
Date published: 2007-07-11
Rated 4 out of 5
by
Keira's mom
from
A Christmas hit!
This kitchen was the last gift we gave to our 21 month old daughter but was the hit of the whole day! We didn't think she would open anything else after she saw the kitchen. My husband and I have enjoyed playing with her as well. The life-like sounds of the burners, phone, microwave, and stove are just adorable. Took us (my husband mostly) 1.5 hours to put together. The part that took the most time was the fact that some of the pre-cut holes did not line up exactly and also there were no holes where screws were to go (specifically the backsplash). No regrets. This will definately provide many years of entertainment and yummy meals :)
Date published: 2008-12-26
Rated 5 out of 5
by
Mother of 3.
from
Great product for the money
I bought this kitchen for my 3-year-old daughter and my 18 month twins (girl and boy). All three of them absolutely love this kitchen. There are so many doors and drawers to explore and plenty of storage for extras that don't come with the set. when i first put the kitchen together, i thought it might be a little short for them, but it turned out to be the perfect size. they can reach all the components at the top of the kitchen and love playing with the stove and sink. there is so much to do. I think there are a total of 5 stations that make some kind of sound. Overall this product is a winner and i would highly recommend it.
Date published: 2008-12-17
Rated 5 out of 5
by
AZ Mama
from
Great kitchen!
My son received this kitchen for his 3rd birthday along with the Step 2 101 piece play food assortment. He loves it!! He plays with the kitchen and "cooks" us food all the time. This is great for pretend play and really gets his imagination going. The kitchen seems very durable and well made, the color scheme is great for a boy or girl, which I like, and it has lots and lots of fun little features that keep him entertained. We were debating about getting this kitchen or the larger more expensive one and I'm very happy with this one. Our 3 year old loves it and our 8 month old loves to gnaw on the plastic food so everyone's happy. :)
Date published: 2008-09-01
Rated 5 out of 5
by
Anonymous
from
My son LOVES this kitchen!
We bought this as a Christmas present for our almost 3-year old son. He loved playing with toy kitchens at his friends' houses. He absolutely LOVES this kitchen, especially all the things that go "beep" and the pots that sizzle and boil. Now when I'm making dinner after work, he also "cooks". It was not hard to put together AT ALL (but there were two of us and that really made a difference). There aren't very many accessories but my son's godmother sent a bunch of cooking accessories to go along with it so he has plenty. I would suggest buying some extra food, though, that's the only down side to this one. I highly recommend this for your budding cook!
Date published: 2009-01-02
Rated 1 out of 5
by
Anonymous
from
Not happy
I have a one year old and a three year old. They have torn up this kitchen! The oven door never stays shut. The burner that sizzles is broke from my kids. They pulled it off of the base where it screws in and broke the plastic. They are to young to tear up a kitchen. I had a kitchen when I was little and I was hard on it and it is in better shape then this one. I have not called step two because it is assembled and I don't know where all the little dishs are. We have many totes with toys. I have never seen a one year and three year old that could tear up something like this. I paid to much for it to only last 6 months.
Date published: 2008-02-23
Rated 4 out of 5
by
Anonymous
from
So glad I chose this model!!
I picked this model after comparing it to others and its comparable models by other brands. Overall, I like this and my son loves it. There is a lot of room in the drawers, which gives plenty of storage. I just wish some things (like the oven) were a little bigger to accommodate our Melissa and Doug playfood items (the cookie tray is an inch too long to fit, for example).Previous reviewers have mentioned that the oven door pops open, and I've noticed it too. I will take them up on the suggestion of Velcro ASAP.Setup took about 2 hours, but it was pretty straightforward and not too complicated.A great purchase, I'd definitely do it again in a heartbeat!!
Date published: 2017-01-08
Rated 2 out of 5
by
Anonymous
from
Terrible to assemble
First off all if you are about to assemble this make sure you are in a good mood because you'll only end up in a bad mood instead of a extremely bad mood as I did. This thing is half easy to put together and half ridiculous. I'm an engineer so this should be a breeze, but when they don't drill pilot holes to help insert screws or chamfer bosses so that thing fit together easily then I'm at a loss. All this tells me is that they don't care because that sort of thing is simple to do.Besides that the design is boring and outdated. It looks like my Grandma's kitchen and every other kitchen that is being remodeled on HGTV. Hire some new designers PLEASE!
Date published: 2010-09-07
Rated 4 out of 5
by
Nydia
from
Overall really good except for a few minor setbacks.
I picked this kitchen set bec. of aesthetics and bec. of the drawers/cabinets (to hide clutter). Overall, I think its a great kitchen set. A few minor things that I noticed but not deal breakers were: the oven door is very loose, it would just open randomly and won't stay shut, there's nothing preventing the drawers from being pulled out all the way by kids, the rack on top of the stove doesn't snugly fit the plates/bowls. Lastly, the console above the oven is poorly designed that we basically had to drill it in there. It also requires a lot of batteries, but hey, what kid toy doesn't? These are all very minor things and I would still recommend this set.
Date published: 2016-07-21
Rated 5 out of 5
by
Calla
from
Love the kitchen!
I just bought this kitchen for my 16 month old son. I researched and researched a ton of play kitchens made by many different companies! I kept coming back to Step 2 because their design was so realistic! They had great reviews on this kitchen, I put this together myself, I couldn't wait for my husband to get home! I thought the instructions were super easy, it's not all that time consuming either as some of the reviews said. I did order the additional 101 piece food set so my little guy is set! He absolutely LOVES playing with it especially pushing all the buttons that makes sounds on the the microwave, oven and cordless phone! It'll get a lot of use!!!
Date published: 2008-10-23
Rated 4 out of 5
by
Mom from Maryland
from
Nice Kitchen set for the price
I bought this for my 2 year old daughter for Christmas and she loves it. So far so good. It is taller than most kitchen sets which is something I wanted. Loads of storage space. My daughter loves the light. The only cons for us were the fact that some of the holes weren't drilled through properly and the step 2 sticker was on upside down. We did have to call the company for a replacement part due to the screws stripping the hole in the microwave keypad and they have already sent out the part (3-5 days) All of these problems are so minor. In my opinion I think this is a really nice kitchen set and for the most part is exactly what I was looking for
Date published: 2011-01-08
Rated 5 out of 5
by
Devika
from
Great Kitchen
I just bought this kitchen for my three year old daughter. She was so excited when we got the box. She just could not wait until I finished to assmble the kitchen. She has been playing with it everyday. It is also great to play with friends. I would definitly recommend it. The sounds are great, the design is wonderful. I wish it would come with more accessories such has food. it took me more than an hour to assemble it but it was not difficult. It is important that you follow the manual one step at a time and in order. Usually I never follow manuals to assemble things but for this one I did. Buy it, you not regret it :)
Date published: 2009-01-23
Rated 4 out of 5
by
Anonymous
from
Great product, great price!
This keeps my 2 year old girl busy and that helps me! She's learned how to pretend and loves cooking breakfast for mommy and daddy! The one thing I will say is the door to the oven will not stay closed. Same with the cabinet door. Nothing I am sure my husband can't fix. The design is great. My daughter loves the sounds that the stove makes, like the boiling water, or the sizzling of the frying pan. Its all very realistic. I did a lot of searching online and I found that this one was the best one for the price. I got it on step2.com and it was the cheapest I found after searching several websites. [...] Less priced, [...]...equals a happy customer!
Date published: 2010-01-04
Rated 5 out of 5
by
Leo the lion
from
Great toy kitchen set!
We had gotten this kitchen set as a tester to see how it would do on the market. We had just finished my son's tree house in our back yard and put the kitchen inside of it. First we had it in the house and it took up a little bit of space so I figured it would be perfect for his tree house and it's great! He loves it and uses his imagination when he is playing. My son also has sensory processing disorder and I think this kitchen set is really good for him to calm himself and play quietly after a day of running around and being hyper. He loves the battery operated stove and the buttons on the phone and microwave and oven. It's really an awesome toy to have!
Date published: 2015-10-08
Rated 5 out of 5
by
chicagodad
from
perfect size, and with food!
we spent a lot of time reviewing kitchens. we initially passed on "step 2" since the kitchens looked a little country for our tastes. but the reviews of "little tykes" sounded really mixed (and a little TOO techy- i don't need the kitchen talking to my kid. i think it gets in the WAY of imaginative play). and the wooden kitchens seemed way too heavy. and gender neutral was a huge plus for our boy.once we settled on "step 2", this one seemed to be the perfect size. unfortunately, i think it's being phased out. act fast, it's the only one that COMES WITH FOOD! (granted, not a lot, but enough to keep our 20 month old busy!)
Date published: 2009-01-04
Rated 5 out of 5
by
Anonymous
from
Great for apartment living
When this showed up at my house my dad questioned me buying a kitchen for a boy!!! I told him that my 2 year old loves to get into my kitchen drawers and play with the real thing. He also broke 2 drawers hanging on them trying to get my stuff out. That is when I made the decision to by this for my son's birthday. He absolutely loves it esp. all the noises it makes. So far he has stayed out of my stuff. This is also great for an apartment because it is more compact than the Deluxe version. I am a single mom and it only took me an hour to put together even with my son "helping" me. A cordless drill is very useful too. P.S. My dad still doesn't understand :o)
Date published: 2010-01-13
Rated 5 out of 5
by
Snugger Snap
from
Loving the Dream Kitchen
I wanted to get this item last year for my then 2 almost 3 year old, but I waited to late and they were sold out everywhere. This year I ordered early for Christmas. My daughter loves everything about the Kitchen, she has yet to stop playing with it. Every noise from the microwave to the oven to the frying and boiling sounds she was amazed. We forgot to tell her about the light over the sink and when we did she was ecstatic. She really thinks she is frying something. She plays with the Kitchen for hours and hours. I am very pleased with this purchase and so is she. Have to go now, she's bringing me breakfast, pizza, fruit, corn and french fries, yummy.
Date published: 2008-12-31
Rated 4 out of 5
by
Anonymous
from
Fun
I had 3 issues with the assembly.1) it took a long time2) I got confused whith one of the pictures during one of the final steps and put a screw in teh wrong place, then had to back track.3) the screws on the back when putting on the back splash didn't line up. Trying to get the screws in, I poked a hole in the back spash, and then another screw in the bottom corner didn't even go through the front piece of plastic. It didn't align. On the opposite side, the plastic is kind of bent up since it didn't go together perfectly when putting the screws in place.On another note, I had one extra screw in the packaging.My kids love the toy and are having lots of fun.
Date published: 2010-08-31
Rated 4 out of 5
by
Anonymous
from
Our kids love this kitchen!
My daughter just turned 2, my son will be 5 next week. They both love the kitchen. My 2 yr old loves to PUT things, and there are lots of places to PUT in this kitchen. Someone else's review advised using a power drill to assemble, and that was really GREAT advice. My husband did the drill work while i did the stickers and put batteries in the various compartments. Working together, we had it together in 35 minutes. At first i thought all those batteries in separate compartments was a little over the top. However, with each appliance having its own 2-3 battery compartment, you'll actually replace the batteries LESS. The light above the sink is a real favorite.
Date published: 2009-03-26
Rated 5 out of 5
by
Cheryl mom of 5
from
Perfect for my almost 2 yr old
Our little girl got this kitchen for Christmas this year at 21 months. It is perfect for her pretending to make food. She loves turning on the under counter light. In fact, that is the first thing she does every morning when we come downstairs. She loves the phone and the other push buttons. Also the sounds on the stove with the pot and skillet are great! The only thing I would change is making the kitchen sink have some sort of sound such as running water. That would truly make the whole kitchen perfect. But other than that we have no complaints. Took a little time for my husband to put together Christmas evening. Probably took a little over an hour.
Date published: 2009-01-02
Rated 5 out of 5
by
Cason's Mommy
from
We love this kitchen!
I did my research before choosing a kitchen for my two year old son and found that no other kitchens even come close to the Step 2 kitchens. I chose the Dream kitchen because it has enough space for two children to play side by side, yet it is not too big. I could not be any happier with my choice. My son plays with his kitchen constantly and so does everyone else who enters our house. It impresses everyone! My husband did not have any trouble with assembly and the quality is great. Step 2 has excellent customer service and awesome products, you can't go wrong! By the way, my sister purchased the Party Time kitchen for my niece and we are just as happy with it.
Date published: 2009-01-07
Rated 4 out of 5
by
Anonymous
from
1 year old loves it!
We purchased this kitchen for our daughter's 1st birthday. When she saw the box, she kept going back and forth between touching the picture and hugging my husband, as if to say "Daddy, I love it,. Thank you!"Other reviews state themployees oven door doesn't stay closed. We don't have that problem. It's the cabinets above the sink that won't close all the way for us. No matter what we do, they stay ajar about 3/4". It's not terribly noticeable, but that's the reason I don't give 5 stars.My daughter loves the kitchen. It did teach her how to open real drawers and cabinets though, so make sure you've child proofed them.
Date published: 2016-07-20
Rated 5 out of 5
by
Anonymous
from
Keeps Granddaughter HAPPY for hours!
I watch my 21 month old Granddaughter full-time. Got her this kitchen for Xmas...WAS A BIG HIT. 2 months latter and she is still "cooking" a few hours everyday! I also got her the table and chairs by Step 2 and she loves to "serve" meals there. The kitchen is realistic and laid out perfectly for children. The only issue we have had is that she has stood on the oven door so much, it will no longer stay shut (her fault not the products). I AM SO HAPPY WITH THE QUALITY OF STEP2 PRODUCTS! I have also purchased the roller coaster, which she also loves. Their products are easy to assemble and DURABLE and reasonably priced. I prefer them to Little Tikes ANY DAY!
Date published: 2010-02-03
Rated 5 out of 5
by
Anonymous
from
My two BOYS love it!
It was easy to set up as it came mostly assembled. Without looking at the directions we got it together in less than half an hour, stickers included. It does take 12 batteries, which we didn't have on hand.Love that it comes with a lot of accessories. The boys love the light in their kitchen and love to use the sizzling pans and the realistic phone.After reading reviews of OTHER kitchens from FP and misc. vendors, I was afraid that my boys would be too big for this kitchen. My VERY TALL two year old fits at it perfectly, and my gigantic five year old loves it and has a great time at the counter.Wonderful product, great price. Have fun with yours, we're loving it!
Date published: 2009-01-31
Rated 5 out of 5
by
SantaGrammie
from
What a Great Christmas !!
Santa/Grandma put this together in just about an hour. I did not have any problems putting it all together and everything fit perfect. On Christmas morning, She had a wonderful surprise!! Her very own kitchen. At two years old, she loves everything about it especially the phone..she has called everybody she knows! She has had to show off her new kitchen to everybody who dropped by to see what Santa delivered. She wants to cook for everybody.(yum) What a pleasure to see her happily enjoying her new kitchen! I am sure that she will play with her kitchen for hours/years. A great investment for children to play and learn.
Date published: 2009-12-26
Rated 5 out of 5
by
Anonymous
from
Great buy!
I love this kitchen. We ordered it for our 14 month old and while she is a little young, she still loves it. I can tell she will use it for a long time to come. It seems very sturdy..as my daughter pulls the oven down and stands on it to reach the microwave. She loves all the sounds, but I wish the fridge/water dispenser made noise (my daughter always pushes the fake buttons). I researched a lot of kitchens before we bought this one and it was the best buy. It is a good size (but not overwhelming) with a lot of storage for extra pots/pans and food. I would definitely recommend this kitchen to friends and family.
Date published: 2009-01-07
Rated 5 out of 5
by
yoyo
from
Great show off kitchen!
My husband and I bought this kitchen for our 1 yr old and all of us are loving it! Before I purchased it, I researched this kitchen and others. The reviews were great and they were helpful to my husband while he was assembling the kitchen. We had the electric screw driver handy and placed stickers before setting it up. My 1 yr old and visiting children love it! All children run straight to the kithen even my teenage neices and nephews! It is very durable, therefore I am not on pins and needles when older children play with it. When she gets older, I will purchase more food and dishes. For now, it is perfect what she has already. I highly recommend the product.
Date published: 2009-01-04
Rated 3 out of 5
by
Anonymous
from
Cute kitchen!
This was for our daughter's christmas. It is very cute and the electronics work well. She is 1 year and a half and it is a perfect height for her. The only complaints we have are that the top half of the kitchen had several screw holes that were not drilled like they are supposed to be. We were not able to screw in the cardboard back splash because none of the 6 holes were there. Also, neither were the holes for the sink light, or the 2 sides holes that are meant to keep the top half from falling over. That is the reason for the 3 stars. Other than that, she loves to play with it and we are happy with our purchase!
Date published: 2017-01-07
Rated 3 out of 5
by
littlelynn
from
Good product
Pretty good product but the groves intended to "hold" the plates in the cornor cupboards do not work and are a waste of precious space. You have to put two or three together and they fall out when you open the door. The inside of the stove needs to be bigger and so does the microwave. My daughter loves the light over the sink and the large kitchen sink. The siverwear drawer is a waste and hold only a few utensils and I can't understand why they made it that way. Would have been better to not have it molded so you could put many utensils in the drawer and not just a couple. No coffee pot. I would not buy this again.
Date published: 2012-12-25
Rated 3 out of 5
by
Theresa
from
Great looking Kitchen but overpriced for quality
We live in Canada and purchased this kitchen from Walmart for $229.93+tax ($259.82). It is definitely a very nice looking kitchen but for the price we expected a little better quality. Not impressed with the screws that came with the kitchen to use for the cabinet knobs, one punctured the plastic and went all the way through the door! The bottom cabinet doors (under the sink) and two top do not stay closed. The fridge door does not sit in properly making it hard to open/close. Also not loving that the two little drawers top and bottom pull right out and a screw is stripped on the oven controller that makes noise. Hoping we can receive a replacement piece for that as it will not screw into place now. This kitchen has potential to be great but some parts are poorly made.
Date published: 2018-02-22
Can this be stored outside on the patio?
If you are not going to use Phone, and buttons, why not. But if you want sound that works with battery, you shouldnt leave it outside.
Date published: 2021-06-05
Does the sink make sounds
yes. I had this exact one as a kid this kitchen really holds so many special meomeris too me 
Date published: 2021-06-02
Can we order replacement parts - the telephone and the microwave button planel on the lifestyle dream kitchen 
Yes, we do offer replacement parts for the LifeStyle Dream Kitchen. Please contact our Consumer Service Specialists at 1-800-347-8372 Monday through Friday, 8AM -5PM Eastern Standard Time and we will be happy to help you.
Date published: 2021-06-21
Recurved box 2 of 2. What is in box one that we are missing?
Please contact at us 1-800-347-8372 Monday - Friday, 8:00 am - 11:00 am and 12:00 pm - 5:00 pm EST, and ask for a Customer Service representative who will assist you in order to find a resolution to your satisfaction.
Date published: 2020-12-09
Do you deliver to gauteng south aftica
Step2 Direct ships within the Contiguous United States only.
Date published: 2020-08-07
Can I still get parts for this kitchen ? I need a new door for the oven and a new phone also. I am happy to pay reasonable prices
Please contact our Consumer Service Specialists at 1-800-347-8372 Monday through Friday, 8AM -5PM Eastern Standard Time and we will be happy to help you.
Date published: 2020-08-07
How many boxes it comes for delivery? And how big are they? As I am from Brazil and I am bringing to my home, I would like to know it
Received in 1 large box. It is 37" x 30" x 17". It also requires 6 AA + 5 AAA batteries.
Date published: 2019-12-24
bought dream kitchen 2nd hand had no phone can we buy one through step 2
We now offer replacement parts online. Please view the following link: https://www.step2.com/parts/ Or you may also contact our Consumer Specialist Staff at 1-800-347-8372, Monday through Friday, 8am-5PM Eastern Standard Time for assistance. .
Date published: 2019-11-18