McLaren® 570S Push Sports Car™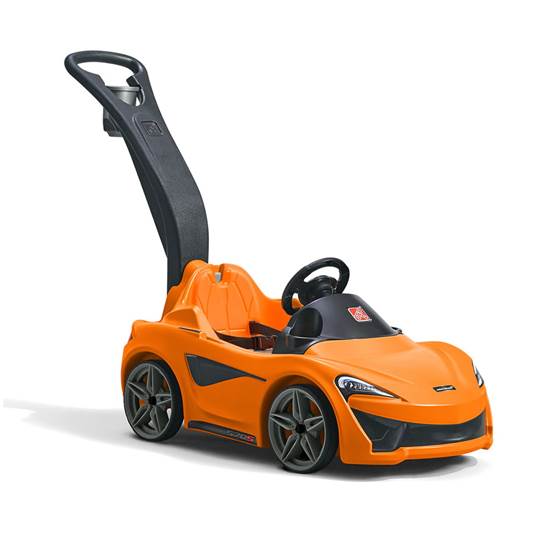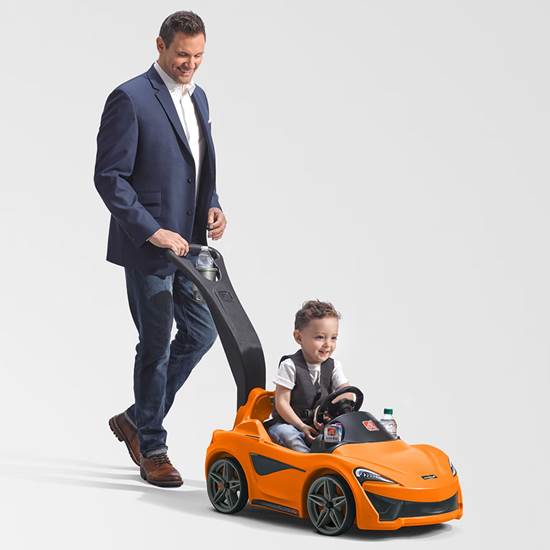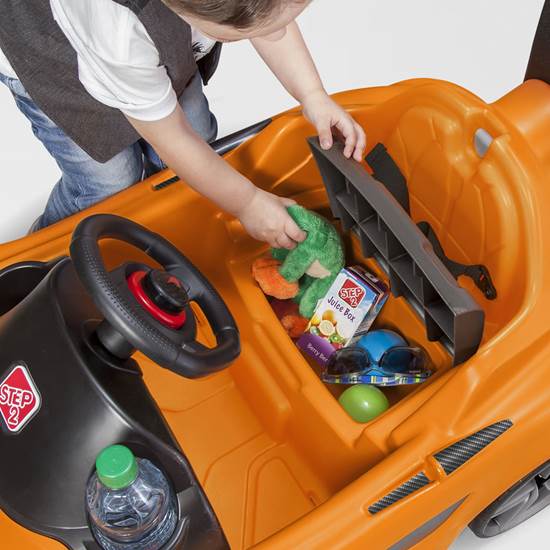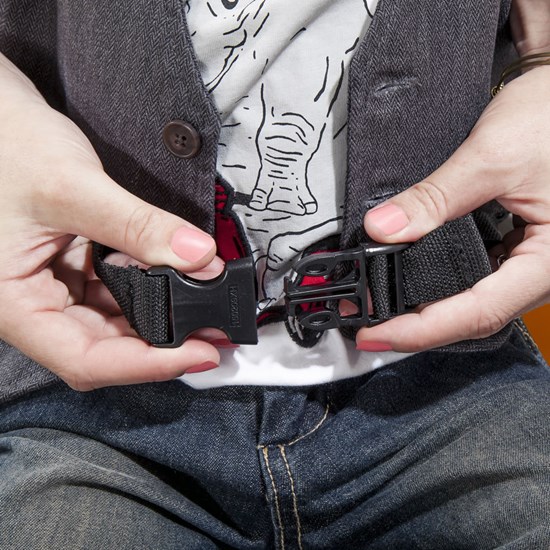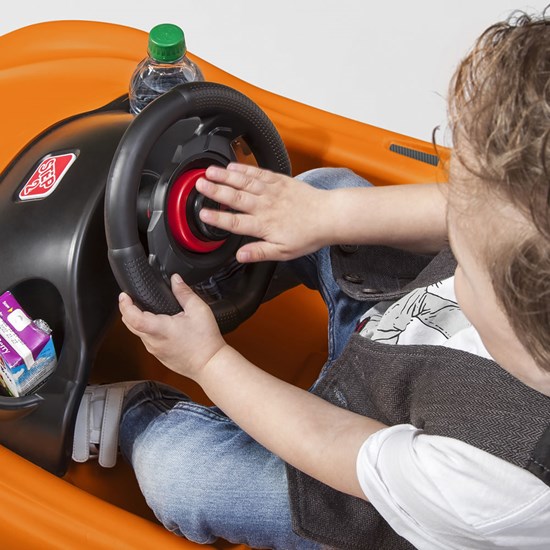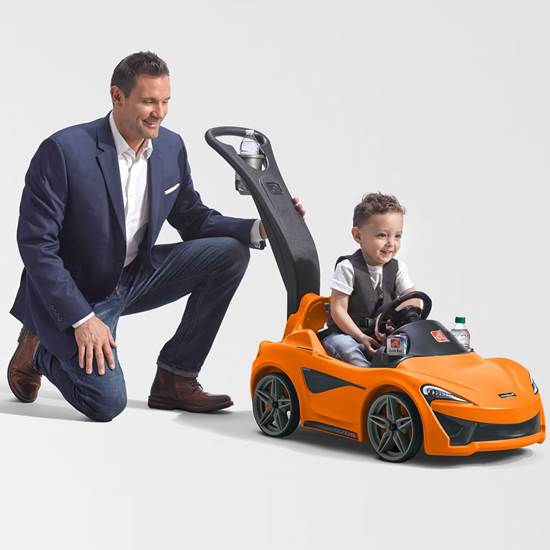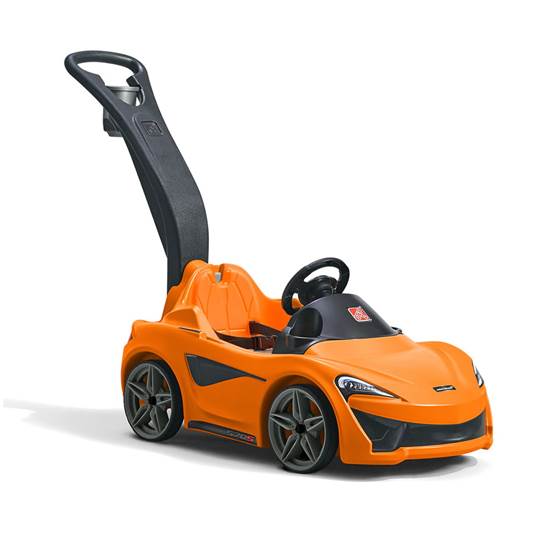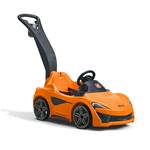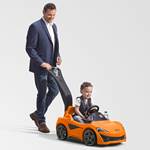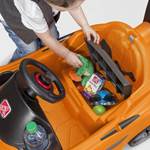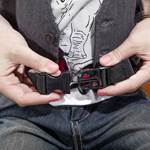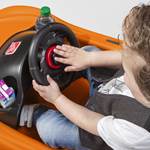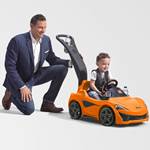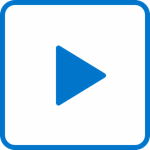 McLaren® 570S Push Sports Car™
In stock
$104.99 $99.99
+$9.99 shipping (via FedEx)
Bring to life the thrill of driving the ultimate, luxury dream car with the McLaren 570S Push Sports Car.
IS THIS A GIFT? DON'T SPOIL THE SURPRISE!
This item ships with an image of the product on its outer packaging.
Rated 5 out of 5
by
Leonardo
from
Loving it for indoors now!
It's been a blast driving our son laps around the inside of our home in this cold weather and social distancing ourselves. Really been a simple and comfortable fun time for us. He loves to use the cup holder for a quick rehydration from time to time. Love the car color and build quality. Thank you step2!
Date published: 2021-01-02
Rated 4 out of 5
by
Mimi
from
Great product!
My grandson loves this. We take him for walks in the neighborhood instead of using the stroller. It rides well and seems sturdy. My main complaint is it's pretty noisy, but it's more fun than a stroller. We get lots of smiles and waves, and we see others in the neighborhood with similar products.
Date published: 2021-04-01
Rated 5 out of 5
by
Queentresa
from
Smooth Ride
Purchased for my 2 year old Grandson, he loves it much more fun than his stroller. Easy to push and maneuver around the neighborhood. The style of the car is sweet and color is bright. The instructions were easy to understand and the car was put together in less than 1 hour.
Date published: 2018-03-27
Rated 5 out of 5
by
AngelaS
from
Amazing!!
I absolutely love this push car. It's light, safe and adorable. I bought it through Toys R Us and unfortunately the steering wheel wasn't included. I called Step2 directly and they kindly sent me the part no problem. Excellent customer service and quality product!!
Date published: 2021-07-10
Rated 4 out of 5
by
Jack10McLaren
from
Great product but why not improve it?
Awesome product, BUT, cup holder doesn't hold a reasonable sized cup=useless except for holding keys. Also the really cool electronic horn button is so quiet it can barely be heard. I'm going to order an old style horn to replace it with.
Date published: 2019-10-04
Rated 5 out of 5
by
Simmy
from
Great product
This car is beautiful and my son loves it. Assembling the car was simple and it's a head turner. The starter noise is a great addition and I've gotten a few people to purchase car after seeing my son with his. Great Product.
Date published: 2018-06-26
Rated 5 out of 5
by
Mamalee
from
Should have gotten this a long time ago !!
I've own plenty of different cars for my boys but this one is my favorite so far ! Overall outing it together I did it under a hour , and it's just look overal great ! Drives well ! I wish it had more colors though .
Date published: 2020-06-19
Rated 4 out of 5
by
Bree
from
My son loves this!
My son is obsessed with this car! The only things I have to say are that it was a little challenging to put together and the holder at the parent handle is an oval shape more for your phone instead of a cup holder.
Date published: 2021-07-10
Rated 4 out of 5
by
chele71
from
Love it!
My grandson got this for his birthday. He loves it! grandpa takes him for rides and he thinks its just the best. Not giving 5 stars only because my husband said putting it together was time consuming.
Date published: 2019-11-19
Rated 5 out of 5
by
Cassie
from
Great car for my 1 year old!
My son LOVES his new car! It was a little harder to put together then I thought, and my son was trying to get in it while building it! But now that's it's built he absolutely loves going on walks in it!
Date published: 2021-05-20
Rated 5 out of 5
by
Jeffrey t
from
Sleek
I get so many compliments on this amazing looking ride along. My child absolutely loves it and gets so excited every time we go for a ride together outside. Thank you for this amazing push McLaren car.
Date published: 2020-02-21
Rated 5 out of 5
by
Havianfa
from
lindo carro!!!!
My 13 month old son is happy, exclusive model, silent, flashy, good purchase, easy to assemble, includes information, parts in good condition highly recommended
Date published: 2018-04-20
Rated 5 out of 5
by
Caroline
from
My son loves it
My 10 month old wants to ride in this car every single day. He steers the steering wheel and listens to the motor noise and giggles.
Date published: 2019-01-07
Rated 3 out of 5
by
Chad P
from
Rattles
Not as quite as I thought it would be. Still rattles a lot from the washers even on flat smoothe surfaces. But overall pretty good.
Date published: 2021-03-13
Rated 5 out of 5
by
Nell
from
Best ride on car !
This product is so great for my child . It's perfect to walk the dog , run to the store or even for a quick doctors appointment.
Date published: 2021-05-19
Rated 5 out of 5
by
Chuchu
from
Best push car
The best push car for my son! We push around the neighborhood and go grocery shopping and it is a lot of fun! He loves it!!!
Date published: 2020-06-01
Rated 4 out of 5
by
Genielle
from
Nice push car!
My kid loves his push car, the only thing I dont like is the tires, its makes a loud noice but overall its a great product
Date published: 2020-06-24
Rated 5 out of 5
by
Dlowder
from
Love it!
We love our push car! I love how many cup holders it has. My kiddo's favorite part of the day is going for a ride in it!
Date published: 2020-05-15
Rated 4 out of 5
by
Christa
from
Super cute but directions to assemble suck
So cute. Got this for a Christmas present and she loved it. You will have to assemble the entire car
Date published: 2020-12-28
Rated 5 out of 5
by
Abed M
from
Nice car toy for little one, easy to push and walk
Nice car for little one to push around neighborhood and also can be used indoors.
Date published: 2020-05-25
Rated 5 out of 5
by
SUREEMANN
from
Amazing toy, would 100% recommend!
Our little guy loves his car! Tons of compliments from the neighbors and family!
Date published: 2020-06-23
Rated 5 out of 5
by
este877
from
Loved It
My nephew loved it. The only issue is the horn on the wheel is low in sound.
Date published: 2020-06-19
Rated 5 out of 5
by
Mayra C
from
McLaren
This car is very cute and easy to assemble. My kids love riding in it.
Date published: 2020-09-30
Rated 5 out of 5
by
Ljane
from
So adorable
Really nice looking and fun! Especially since Dad has a McLaren!!
Date published: 2018-10-03
Rated 5 out of 5
by
manest3
from
EXCELLENT
My daughter love her new car !!!!!!!!!!!!!! is an excellent toy
Date published: 2020-07-23
Rated 5 out of 5
by
Lori
from
Fast shipping
Product came early, made my grandson very happy. Thank you.
Date published: 2018-04-30
Rated 5 out of 5
by
Grandma Jan
from
McLaren push car
My 2 year old grandson loves riding in his new car!
Date published: 2018-05-02
Rated 5 out of 5
by
Rubi
from
The coolest car on the block
Very sturdy, super fun and my kid loves it so much!
Date published: 2020-06-11
Rated 5 out of 5
by
Marisha5
from
My son's favorite gift!
Throughout the years my oldest 2 boys had other push cars by step2. This particular one is the coolest design and car for my 3rd son. We got it for our little one's 1st birthday, it was very easy to assemble and didn't take too long. I love the color, the design of it, and my favorite part of it is there is a cup holder for my baby and me. I do wish it had another compartment for me to put keys or remote control for garage or a wallet when out at a local store. The whisper wheels are a huge improvement on the sound of the tires when on cement or road. That used to drive my neighbors and myself a little crazy with old models. This particular model is wider than others and lower. Even my 3 year loves riding the McLaren 570S while his 6 year old brother pushes the car around. You do need 2 AAA batteries for the interactive wheel to make sounds, which my 1 year old loves! The safety belt, is an excellent design and quality for little ones to keep them safe and secure when on the go. I love how easy it is to clean and sanitize, nothing to take apart or toss in the washer. Excellent quality that will last for years. I speak from experience, as my previous 2 push/ride on cars by Step2 lasted for years! I highly recommend this luxurious vehicle to get your kids started in their mobile life!
Date published: 2021-06-01
Will this item be back in stock? Or is it not being made anymore?
Thank you for contacting Step2. We run products per a forecasted schedule and order projections from our retailers. Usually products are back in stock within two weeks at Step2. Retailers can take longer due to shipments and logistics. Please continue to check our website and retailer websites daily or periodically for availability. We apologize!
Date published: 2021-03-10
When will this be back in stock
At this time, we have no estimated dates when stock will be available. What we suggest is to visit our website at www.step2.com and click on product that you are inquiring about. Once the product shows, there is a button that says "Notify Me". Click on this and enter your email and once the product is available, you will get a notification.
Date published: 2021-01-20
Is the car operated by battery or do the parent have to control movement?
No battery, fully manual
Date published: 2020-11-20
when will the mcLaren 570s push sports car be in stock?
We apologize but we are currently out of stock and backordered on this item and several products. We are now running limited production as we were previously shut down due to the COVID-19 environment and unable to produce at that time. Our current production has been limited due to social distancing guidelines. We do not anticipate having this item & other products back in stock until late November– mid December. Please note this is an estimate as the timing could move back again based on demand, production schedule and retailer commitments. Continue to check our website daily for availability and updates. We apologize for any inconvenience.
Date published: 2020-11-13
Is the parent push handle removable? Is their an option for the child to use his foot to the floor?
Yes, the handle can be removed. It also can be folded under the car for storage. No, the child cannot put his feet on the ground, as the bottom of the car is solid.
Date published: 2020-08-11
Would this be safe to push a 6 month old in? He can sit up on his own already qnd doesn't like laying down
Yes I think it would be. It has a safety belt to keep children strapped in. We started my great grandson in a different model because he never liked being in a stroller. This was his favorite model however. We used it for him until he couldn't fit in it anymore. Only thing I would watch out for is the elements, no sun, rain, or cold protection.
Date published: 2020-07-14
Can we buy replace stickers
You can find replacement parts available for sale on Step2.com, or contact our Consumer Services team at 1-800-347-8372 Monday - Friday, from 9-3 ET and we will be happy to assist you further with this request.
Date published: 2020-06-16
Do the headlights light up? Are they functional or are they just for aesthetic purposes?
No, they do not light up. They are stickers. 
Date published: 2020-04-28