Shootin' Hoops Pro Basketball Set™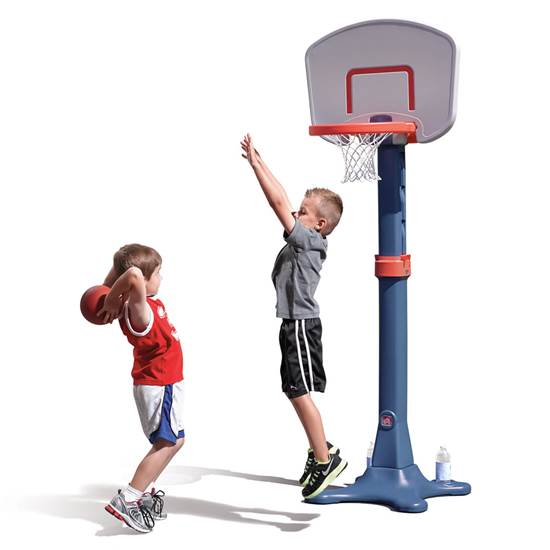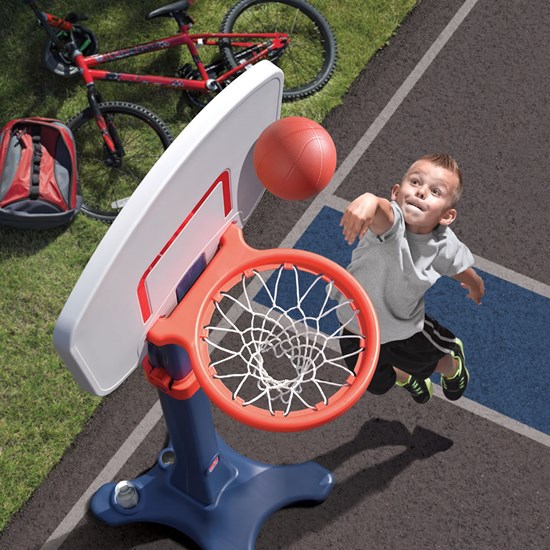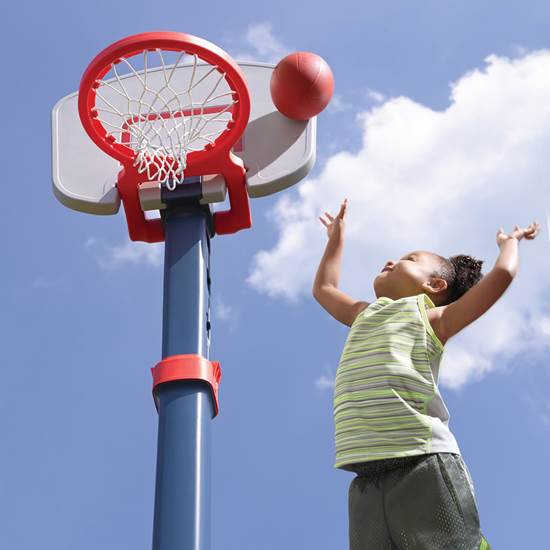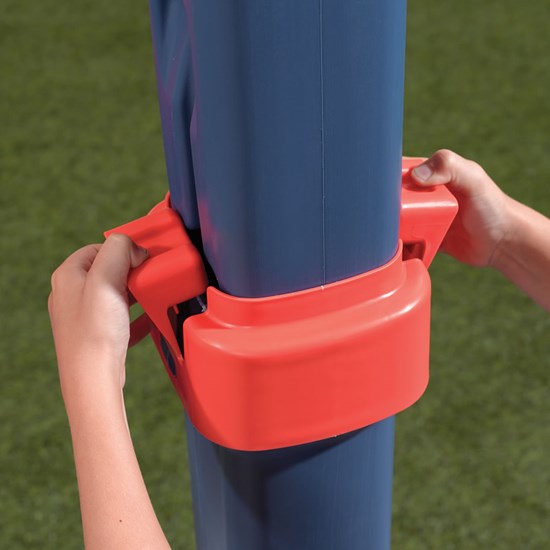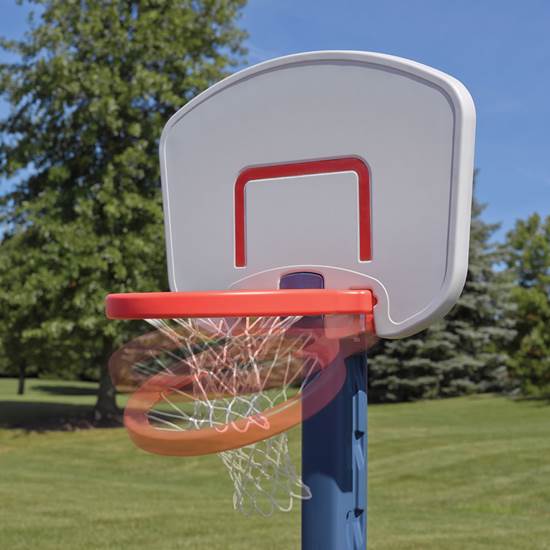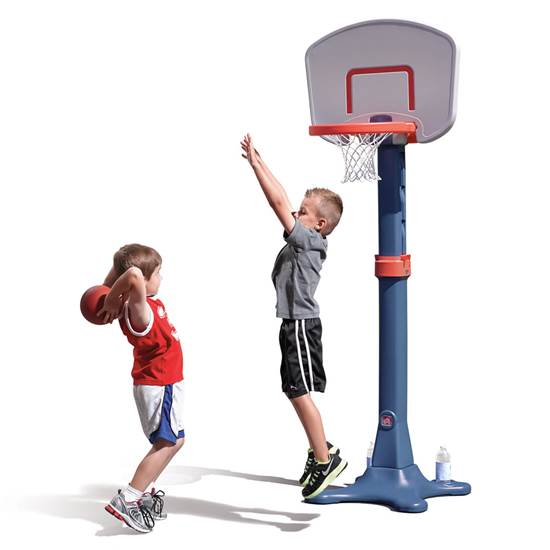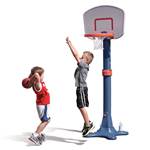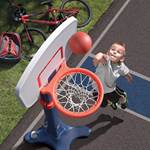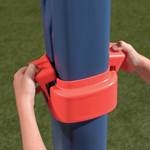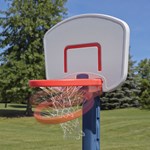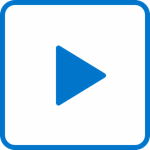 Shootin' Hoops Pro Basketball Set™
In stock
$64.99 $59.99
+$12.99 shipping (via FedEx)
Get ready for a pick-up basketball game with your little sports lovers and the Shootin' Hoops Pro Basketball Set™!
IS THIS A GIFT? DON'T SPOIL THE SURPRISE!
This item ships with an image of the product on its outer packaging.
Rated 5 out of 5
by
Vanessa, DSM
from
Great Basketball hoop to grow into!
We love this hoop! At the lowest setting, it's a great height for my tall 4 year old. She can still reach and dunk. My two year old has a great time throwing from afar. But we love that the kids can really grow into this hoop for years to come.The construction is second to none, and I love that the hoop actually collapes to make storage super easy. Two small cupholders makes staying hyrdrated easy.Our only issue was with the basketball provided. After an hour in the hot Vegas sun, it morphed and hasn't gone back. The hoop is plenty big however, that we're able to use one of the many balls we have.Thanks for a great product, Step2!
Date published: 2014-03-21
Rated 1 out of 5
by
Zachary
from
Total manufacturing design flaw!
We bought this goal directly from Step2 website because they had best price and could get in time for Christ... we also bought because we have the shorter version at in laws house for our son... there is a major manufacturing design flaw in the mechanism that holds the goal up in the different positions... it is based off tension that the plastic piece can stay in place to hold up the goal... it does not and cannot! Therefore, whether you move the goal up or not it will fall back down! Very poor design, thinking of drilling holes at every level and putting in my own dowel system.... rather than pay a hefty price to return and fight for a refund... goal is actually great other than this major flaw! Would not recommend...
Date published: 2019-01-29
Rated 1 out of 5
by
mamah
from
Disappointing
Purchased this as a Christmas gift for grandkids. Ball had a hole in it and could not be inflated. What good is a new toy when you can't play with it?! Contacted Step 2 for a replacement ball and they say they will not provide one.
Date published: 2018-12-27
Rated 5 out of 5
by
Basketball mommy
from
Quality product
Overall good product if your looking at this just go ahead and buy it. We filled ours with water it doesn't tip. It is in our back yard on the concrete. It took us literally less than 20 min to put it together. The stickers don't fit perfect but who cares. My son thinks he is a basketball star. He plays with it everyday and he is three. He really like to dunk bc of the bounce factor of the rim. We already moved it up a notch and it was very easy to do with one person.
Date published: 2015-04-09
Rated 5 out of 5
by
Theodore
from
A Perfect Birthday Gift for Brenn.
We purchased this for our first Great Nephew's second birthday. Very well designed for ease of assembly and substantial rigidity, especially after filling and sealing the base with playground sand. After this purchase we were told that STEP 2 products have a very good reputation for quality. Delivery was well within the limits. His Dad has to learn to SHARE ! ! !
Date published: 2016-10-12
Rated 5 out of 5
by
Anonymous
from
Great basketball net
High quality construction. Very easy to adjust height of the net. Sturdy even without putting sand or water in the base. My 4 year old loves it. The only con is the included ball is small and does not bounce very well.
Date published: 2014-04-13
Rated 2 out of 5
by
Renee
from
No latching
Everytime the ball is shot the hoop slides down and the latch doesnt latch.
Date published: 2020-07-05
Rated 5 out of 5
by
CMCL
from
Wonderful basketball hoop
I purchased this basketball hoop for my very energetic 4 year old twin boys. I was worried that it would not be able to withstand their energy but it has been amazing. My boys love it and it is so durable. My 6 year old daughter also loves that it is bigger and she can use it too. This is definitely fun for the entire family. Wonderful product! We are so happy with this purchase!
Date published: 2015-04-07
I ordered this as a gift for my nephew, and shipped it to my sisters place in Michigan, but it was too large for him. How can they return this?
Depending on where the unit was purchased from will depend on the return policy. If you ordered directly from Step2, you can contact Consumer Services toll free at 1-800-347-8372 Monday through Friday between 8am and 5pm EST. and one of the representatives can assist you with details of the return policy.
Date published: 2021-01-19
is this age appropriate for a one year old? Or should I purchase the junior set.?  
I bought for my 2 year old grandson who loves it. It can be adjusted to a lower height for younger kids and raised as they grow. He had the smaller one originally but outgrew it quickly. 
Date published: 2019-12-07
Do you offer replacement nets?
Please contact our Consumer Specialist Staff at 1-800-347-8372, Monday through Friday, 8am-5PM Eastern Standard Time for assistance.
Date published: 2019-11-14
While assembling step 3 post into base it did not SNAP can I take it out & start again?
Please contact our Consumer Service Specialists at step2-company@step2.net or 1-800-347-8372 Monday through Friday, 8AM -5PM Eastern Standard Time and we will be happy to help you.
Date published: 2020-02-22
How easily is this to move from one spot to another?
The Shootin' Hoops Pro Basketball Set™ is easily moved.
Date published: 2018-04-27
tHE RIM BROKE AND i WANT TO KNOW IF YOU SELL IT SEPARATELY?
You can order replacement parts through our Customer Service Department. Please call toll free 1-800-347-8372 Monday - Friday, from 8-5 ET and we will be happy to assist you further with this request.
Date published: 2018-03-27
How large is the box that this comes in?
The packaging dimensions for the Shootin' Hoops Pro Basketball Set™ packaging dimensions are as follows : 22.25 x 9.75 x 44.5 in.
Date published: 2018-03-27
What is the adjustable size that it adjust to? By that I mean the lowest to highest
The Shootin' Hoops Pro Basketball Set™ adjustable post allows this kids basketball hoop to go from 48" (121.9 cm) to 60" (152.4cm) to 72" (182.9 cm).
Date published: 2018-03-27