Skyward Summit™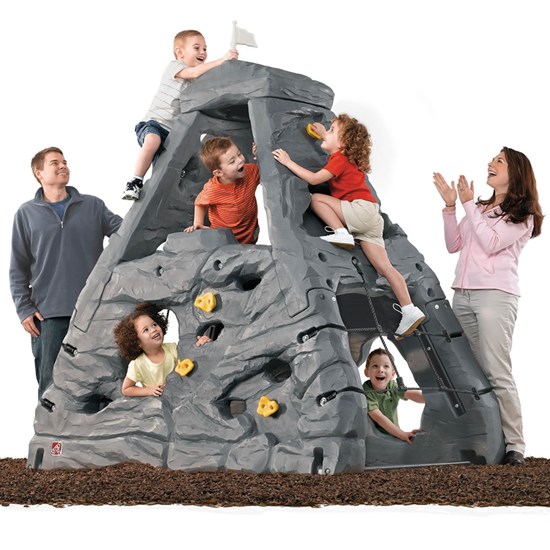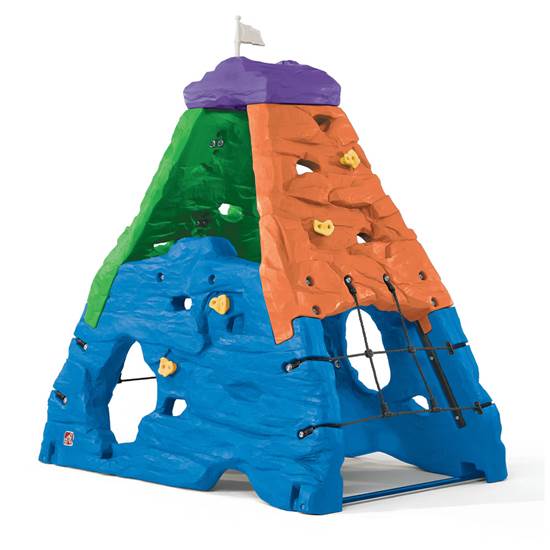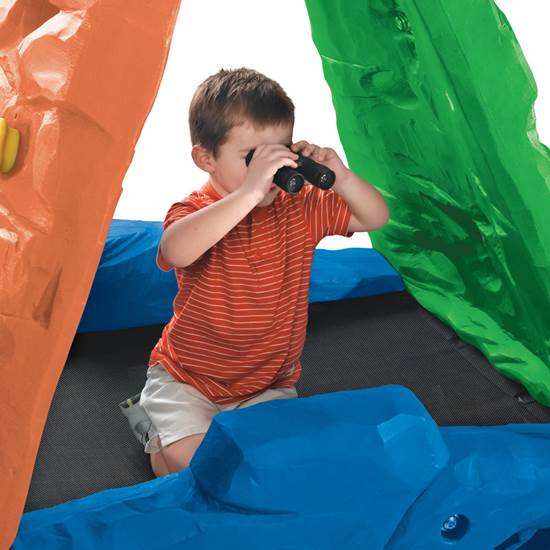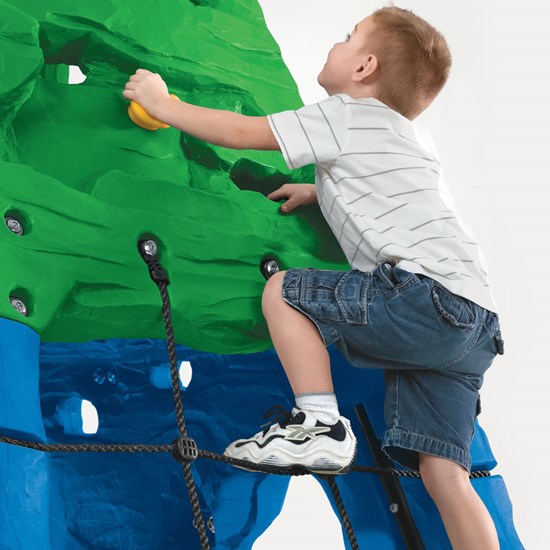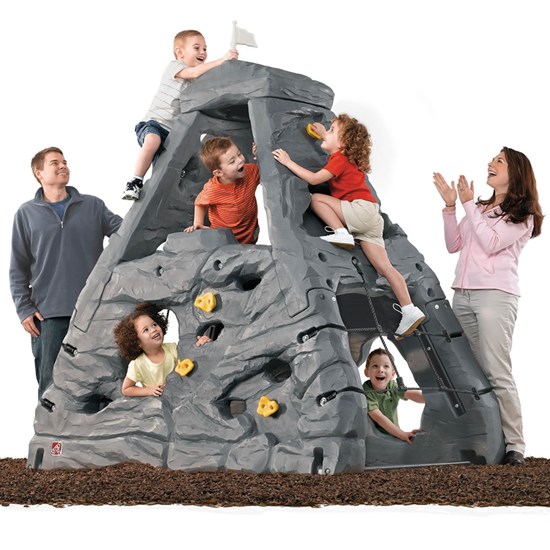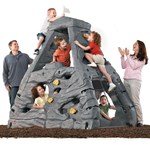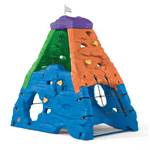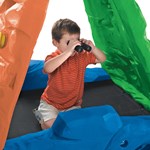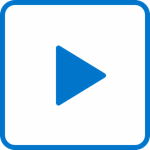 Skyward Summit™
In stock
$604.99 $599.99
+$99.99 shipping (via Truck)
IS THIS A GIFT? DON'T SPOIL THE SURPRISE!
This item ships with an image of the product on its outer packaging.
Rated 5 out of 5
by
Anonymous
from
My 3 Year Old Loves It!
We wanted to get a swing set for our 2 girls (3.5 years and 11 months) but the size of our yard didn't allow us to get anything that would last them for several years. The Skyward Summit is a perfect size for our yard and provides endless entertainment for our 3.5 year old. She keeps telling me to call her Izzy when she climbs it because it is Neverland Mountain! We just got it so I'll see how it does through the winter but my daughter's preschool has one as well and it seemed to have sustained the weather just fine. The other perk of this product is that when the girls are done with it in 5-7 years, it will be much easier to disassemble then a whole swing set! We highly recommend this product.
Date published: 2012-10-10
Rated 5 out of 5
by
Anonymous
from
Way Cool
The only drawback was that there was a small bag of hardware (nuts and bolts) missing from our shipment. I am sure that since this is a newer product, those who put the parts in left this bag out. We ran to the hardware store to pick up the parts we needed and were on our way (we did have to go back as I forgot to mark some pieces that were missing - silly wife that I am). We have a four year old girl and a 1 year old boy. They both enjoy it. My son only climbs underneath, but loves it. My daughter loves racing to the top. All in all - totally worth the money and time.
Date published: 2008-08-16
Rated 5 out of 5
by
Anonymous
from
Love It!!!
We got this a couple of days ago. It only took my husband and his brother 2 hours to assemble it. The instructions were very easy to follow. The bottom is open so we put an outdoor carpet to fit underneath. My younger children are 5, 3, and 15 month's. They all love it! My 5 year old climbs all over it. My three year old can get to the middle platform and the baby loves the cave. They can't seem to get enough of it. I see alot of fun with this for many years!!!! My husband and I also climed to the top and we weren't worried at all. It is very sturdy. Great climber!!!
Date published: 2009-08-10
Rated 5 out of 5
by
Gramma D
from
Unique
I purchased this for my 2 1/2 year old grandson who loves to climb and to slide. I wanted something different - also something that would appeal to his older (9 year old) cousins. I thought it would take him awhile to master the climbing, but he succeeded in makng it to the top within the first hour of use. He loves climbing on it and hiding in the "cave". The older boys are having fun with it as well. Assembly was not as difficult as expected - except for attaching the upper part of the cargo nets. I expect this will get alot of use in the next 6 or 7 years.
Date published: 2008-12-31
Rated 5 out of 5
by
tinitintin
from
love it!
We chose this over the typical swing play structure. This fits perfectly in our yard where the kids go out and pretend it's their fort. love the moveable flag. the clever sturdy net in the "cave" to support children after the climb is great too. my 2 yr old has a bit of trouble climbing all over it - but it doesn't stop him from trying! great exercise and imaginative play.easy to assemble, pictures don't always represent the tools (screws) given. it's light weight to carry (need 2 people) and instructions are clear.i think the perfect age group would be 2-5yr old.
Date published: 2011-06-07
Rated 4 out of 5
by
Laine
from
Problems with assembly
We purchased this as a gift for our grandson & began putting it together the day before his birthday party. The next morning we were still at it. Extra time was necessary because bolts were missing & necessitated 2 trips to the hardware store. Also, several holes didn't line up & we had to drill our own. We still haven't been able to stretch the climbing ropes enough to fit into the 2 slots on each side, nor was anyone able who came to his birthday party. At this point the climbing ropes are useless since we can only attach them on one side.
Date published: 2011-05-22
Rated 5 out of 5
by
Anonymous
from
Extremely pleased with Skyward Summit
This has proven to be a delightful backyard toy for our 3 grandchildren ages 4-10. It's sturdy enough to hold all 3 at the same time; plenty of opportunities to let their imaginations run wild as they go from fending off dragons, to taking their binoculars and turning the mountain into a pirate ship. Lots of physical exercise is also a bonus. Assembly was somewhat more difficult than I anticipated. Definitely needs two adults.
Date published: 2010-04-17
Rated 5 out of 5
by
2boysmom
from
Love it!
My boys are 4 and 11 and love it. They play together, alone, and with friends. I'm a little nervous when they're at the top, but never seem to have any problems. I would not recommend it for anyone under 4. I put this together by myself, with a little help from my four year old. It took a long time, but the directions were very easy to follow. I do think it was overpriced, but my boys love it so I guess it was worth it!
Date published: 2009-06-30
Rated 5 out of 5
by
Anonymous
from
A Unique Climbing Toy
The skyward summit is a breath of fresh air among climbing toys. It's all about climbing and my kids never get tired of that. This climber is challenging enough for my 8 year old and easy enough for my 4 and 2 year old to enjoy also. My 2 year old cannot climb up past the rope ladders yet, but he likes crawling in and out of the cave. My only complaint is that it is time consuming to put together, but it was well worth the effort. Before purchasing it should be considered that young children should be supervised on this climber since it is so tall.
Date published: 2009-02-27
Rated 5 out of 5
by
Jglmdw
from
Very happy
I was very happy with the quality of the Skyward Summit. I purchased this item for my very active and furniture climbing 3 year old son. He is able to climb to the summit while improving his strength and agility. Not only is he able to enjoy it but my 5 and 10 year olds do as well. My husband assembled this item by himself in a couple of hours. The only thing that I have concerns about is the fact that it gets really hot, we have this placeed outside, and I will need to hose down the Summit before the kids can play on it during the summer months.
Date published: 2013-05-01
Rated 5 out of 5
by
Future adventurers..
from
worth it!
We bought this to encourage one of our own favorite activates…climbing. It has been fun watching our soon to be 4 year old climb the summit. Just today he tackled learning how to climb down out of the platform. The look on his face was worth it. The platform is a cool retreat for him to get away from his little brother. Item was received a week after ordering and took a few hours to put together. Having an extra person could have made it go by faster. Day two of having it and I feel it was still a good purchase…I know my son loves it!
Date published: 2010-04-13
Rated 4 out of 5
by
Anonymous
from
Top of the World
I bought this for my home daycare. Better used for a smaller group(maybe no more than 5 kids).The younger kids like to make it to the top.Can really only have one child on a side at a time. If 2 kids are on one side trying to climb, hands and fingers tend to get stepped on. All kids really like climbing this mountain. They also need to take turns sitting in the middle. Some tend to stand in the middle and try to climb through the hole in the top.It did take a couple of hours to put together, sometimes the picture of the bolt didn't match the actual bolt. It is not hard to put together but time consumming. Really need 2 people to put together, makes it alot easier.Any kid would love to have this. It is something unique to have in your backyard.
Date published: 2010-05-18
Rated 5 out of 5
by
DC Mom
from
Love it, love it, love it!
I love this thing. So much better than the usual boring swing set that everyone has. My 5 year-old son likes to climb up to the middle opening/chamber with his toys and play. It's like his own little cave hideaway. I only wish that the middle chamber held more than one child; 80lbs isn't much. Once a kid gets past 4 or 5 he can't be in there with any of his friends (though the space is large enough to accomodate two children). Putting it together, however, is no fun. Thankfully, our set was not missing any of the hardware but it was a good 4 hour struggle with both my husband and I working on it. However, it was a small price to pay for a great looking and unique outdoor play experience. Why don't more companies come up with cool stuff like this?
Date published: 2009-05-13
Rated 5 out of 5
by
Mother of Monkeys
from
Worth the Wait
[...] When the product finally arrived I couldn't wait for my husband to get home and help assemble it, so I did it myself, pregnant with two small children "helping". My son is technically too young for this product, but since he seems to think that he is a monkey and has to climb on everything, I got it for him anyways. He has already mastered climbing all over it- it is amazing watching his perseverance and little brain trying to figuring it out. Overall, I am quite pleased with my purchase. Hopefully it survives the summer heat.
Date published: 2010-03-22
Rated 4 out of 5
by
HOLY
from
Love this- would buy it again
I purchased this item for an early childhood playground at our school. When it was put together we all agreed it was a little scary-looking because the outside climbing area seemed so tall! We spent the first two weeks standing next to the summit to teach climbing skills and that has paid off. The children love this and I love the open-ended play I see! The only reason I gave it 4 stars is because it gets so hot in the full sun (we have plenty!). Please note this has only been in use three weeks so I can't attest to it's longevity.
Date published: 2016-09-01
Rated 5 out of 5
by
Anonymous
from
Must Have, More Fun than Anticipated!
My son absolutely loves this item. We have had it for two months now, and he is always asking to play on it. We have had all of the neighborhood children over, and each and every one of them loves it. It is amazing how much they enjoy it. It keeps them busy, and will entertain for hours. The age group of children that have enjoyed it is from age 2-10. Though 2 is a little young. My son is currently 4, and it is the perfect age group for him. We anticipate having years of fun out of it. It was worth every penny and more.
Date published: 2009-04-19
Rated 5 out of 5
by
Desertgirl
from
My son loves it!
This play structure is sturdy and fun. My four year old got the hang of it quickly. It's nice that the sides have differently spaced holes/handles. Some are too far a stretch for him now, but he'll be able to conquer with a few more inches on him. Overall, assembly was reasonably easy. I completed about 85% of it before my husband was able to help me. It took about 2-2.5 hours total. Probably the most frustrating part of assembly was sorting the hardware, as there is seemingly no rhyme or reason to what is bagged together.
Date published: 2020-09-29
Rated 4 out of 5
by
Anonymous
from
Great for older children
We had been looking at this far a few months and decided to get it for Christmas.[...], but as I had seen in other reviews we were missing some parts. We contacted step 2 and they very quickly got the parts shipped despite the holidays. So great customer service. It did take about 3 hours to assemble but it is very sturdy and my 4 year old daughter loves it. I would definitely save this for kids 4 and up as Step 2 recommends. Definitely worth the money and time to put together. I am sure we will enjoy this for many years!
Date published: 2009-01-07
Rated 5 out of 5
by
Mom3
from
Years later still enjoy
My parents bought this mountain in 2009. My son and his cousins loved it. Years later, I now have three kids of my own. My kids are 11 yrs, 8 yrs and 4 yrs. All three love playing on the mountain. When friends come over, everyone just wants to climb in. No they don't play on it everyday but the mountain is still getting used.
Date published: 2018-01-11
Rated 5 out of 5
by
Jo's Mom
from
My daughter LOVES it!
We ordered this for my daughter's sixth birthday. I was really surprised at how quickly we received it. I had seen it on other sights for a lower price [...] the Step 2 website was the best deal. I am about 5' 3" and 115 pounds and I put this together myself. It did take me about three hours and it would be a lot easier if you had two people doing it so someone could help hold the pieces (they are pretty big). My daughter loves it! She likes to sit on the platform in the middle and color. She is all over it!
Date published: 2011-06-19
Rated 5 out of 5
by
Boymom
from
The kids love it!
We received this as a gift for Christmas. It was a bit of a headache to put together, but once the parts all got sorted out it went more smoothly. My 5 year old LOVES it, and my 18 month old likes the 'cave' underneath for playing with cars and things and playing peek a boo with climbers above. We are loving it!
Date published: 2018-01-06
Rated 5 out of 5
by
Anonymous
from
WoW! Most Awesome Activity Toy!
This is an amazing backyard outdoor activity! I am home-bound so I can't go anywhere fun with my granddaughter. So she can't wait to come over to my house and climb her little heart out! My husband put the Skyward Summit together in about 3 1/2 hours, alone without help. It isn't difficult, you just need to spend about 30 minutes organizing the screws, bolts and parts into plastic bags first. This will make building the Summit easier. Before you build, plan the space where it will go. We live in Florida so put the Summit in a partially shady area so the plastic wouldn't absorb too much heat from direct sunlight. I haven't had to clean the Summit yet, but I think using a spray bottle with a gentle soapy mixture to spray on the Summit and then rinse off with a hose will do the trick!
Date published: 2015-09-05
Rated 4 out of 5
by
Jeni, mama to two
from
Great equipment for little monkeys
We really do like our Skyward Summit. It's great exercise for little people; our 3 year old loves it! I assembled it all by myself and it took roughly three hours. The only con is that the hardware all comes in a few bags, all mixed together and not labeled. Then again, I'm probably just spoiled by [...] directions and hardware. :) I'm sure it's easier with two people. But now that it's together, we love it! My son has happily spent about an hour a day on it for the last two weeks.
Date published: 2010-05-02
Rated 3 out of 5
by
School Principal
from
Difficult to assamble. Bolts stick out.
We have this product in a school playground. The children love it but we had to cover the tip of the bolts for the children not to get scrached
Date published: 2008-08-29
Rated 5 out of 5
by
Mom with all boys
from
Great for any back yard
This is great product for any backyard! It was a Santa gift for Christmas. The boys LOVE it (ages 11,9,7 & 2) They have spent hours play on it. They have even named it 'Mount Everest'.The directions were simple to understand. We built it in our garage then moved it to the back yard. We should have just built in the backyard. The only hard part was moving it from the garage to the back yard, thur the back yard gate.It is a beast to lift over your head over a fence!
Date published: 2008-12-26
Rated 4 out of 5
by
Mom of 2 energetic boys
from
The kids love it!
The boys (5 &2) love playing on this, but assembly was not fun at all. Step 2 really could have done a better job sorting out the bolts & washers into seperate bags & labeling them. That was very time consuming trying to figure out & find the right size washers, etc. There were several times that the directions were unclear & we had to go back & redo steps. It took my husband & I 3 hrs to put this toy together & we are usually very efficient at putting together this kind of stuff. For the amount of money that this rock wall cost, Step 2 could have done a better job sorting out the parts. I was very disappointed in that aspect! Luckily the kids love it so that makes me happy! I would recommend this toy, but be prepared to have several hrs to assemble & have a helper, Good luck!
Date published: 2009-06-07
Rated 4 out of 5
by
Edmom
from
Will be used for years to come!
So happy with this product that was primarily purchsed for my 4.5year old. We were looking for something other than a swingset for our small backyard, and this was exactly what we wanted.My 4.5year old has played on this everyday since we bought it 5 weeks ago in rain or shine, and that to me is a statement on the play value. Even my 15 month old loves to climb underneath it.It is time consuming to set up though, and the rope climbers are very difficult to attach, we actually only attached one side so our children would be able to take toys underneath the structure to play with like a playhouse. 2 people will definitely make the assembly go quicker, i did it myself and it took about 3.5 hours.Every child that has been over to our house since we purchased it has played on this climber, and loved it. I highly recommend it !!!
Date published: 2011-07-15
Rated 4 out of 5
by
Best DAD ever
from
Kids love it
Good solid products, easy to assemble, easy to move
Date published: 2019-12-26
Rated 1 out of 5
by
Lily
from
Would never buy again!
My sons (11 & 13 yr olds) lost interest in this thing in about a day... When I first got it they were both really excited and ran quickly to the top! But after they came in to eat lunch (at that moment they were still excited and couldn't wait to go back out and play with it some more) and went back out they kicked it over (it was intentional too) and didn't care for it anymore! :( Returned!!! Would not purchase again! NeiTher would I recommend!!!!
Date published: 2018-05-06
Rated 4 out of 5
by
Marine Wife
from
So far so good
I put this together on my own. Had a couple problems with the thread of some of the screws, but overall it was pretty easy. Don't be overwhelmed by all the pieces, ladies. You can do it! My son watched from the window as the assembly took place, but he had to come and try it out before I could even get all the way finished. He was bursting with excitement! I'm looking forward to having the whole neighborhood over to play!
Date published: 2010-03-04
Because of where I live I'd need to lift this up and down off the deck! Down in morning and back up at night! Can this be done?
It can be, but you'd need two people to do it. It's not super heavy, but it's awkward to move as one person, especially going up and down. 
Date published: 2021-06-26
How many boxes is this shift in
This comes in one large box.
Date published: 2021-05-28
When will this product be available?
I was pretty excited about getting this for my grandson.  I was asking the same question at one time.  I emailed the Step2 website and they did respond.  Although I had to keep checking the site and found it was available again before they let me know.  It's a popular item especially this time of year. Keep checking and order when available.  They are located in Ohio.  They may have a contact number.  Not sure.  Grandson loves it.   Good luck,  Will D.
Date published: 2021-05-22
Can I add a slide to this?
I own this & I really don't think so.
Date published: 2021-05-15
Does this product have any latex in it?
We haven't noticed any latex in the Skyward Summit.
Date published: 2021-04-29
Can you please give me informations about shipping the item to Slovenia, if it IS even possible (time + price). Thank you!
Step2 ships within the Contiguous United States only.
Date published: 2021-03-16
Can you assemble half of this for toddlers? Without the top half?
No. For safety purposes all products should be fully assembled. Please note that this unit has an age reccommendation of 4-8 years.
Date published: 2021-01-19
When is this expected to be back in stock? 
We apologize but we are currently out of stock and backordered on this item and several products. We are now running limited production as we were previously shut down due to the COVID-19 environment and unable to produce at that time. Our current production has been limited due to social distancing guidelines. We do not anticipate having this item & other products back in stock until late mid– late December. Please note this is an estimate as the timing could move back again based on demand, production schedule and retailer commitments. Please note that this product and many others may not be available on our website and only available and sold by Walmart or Amazon.
Date published: 2020-12-07