Whisper Ride II™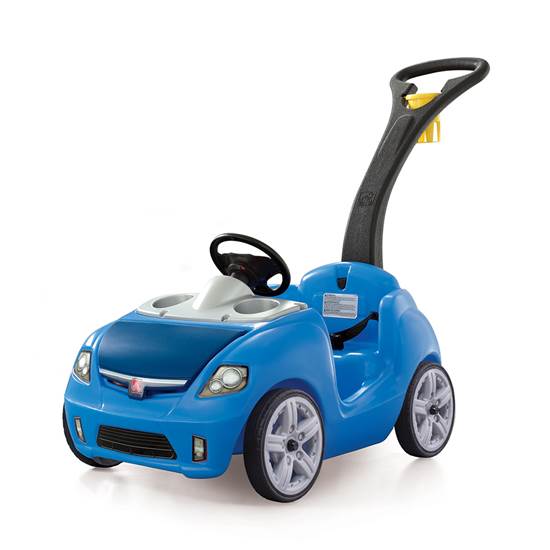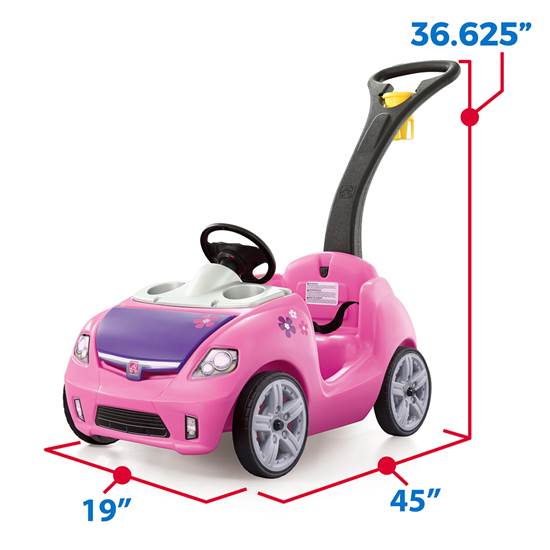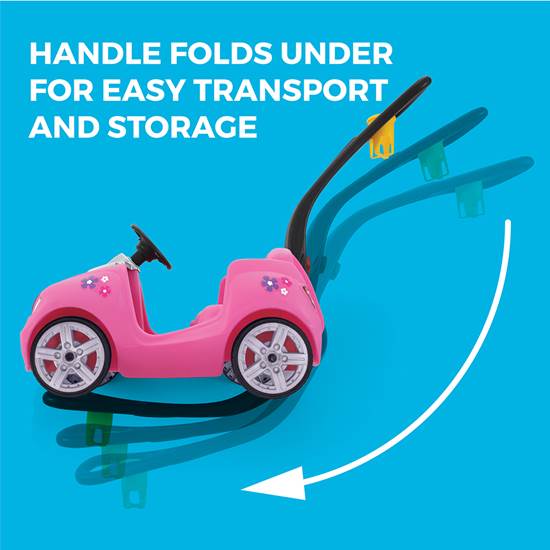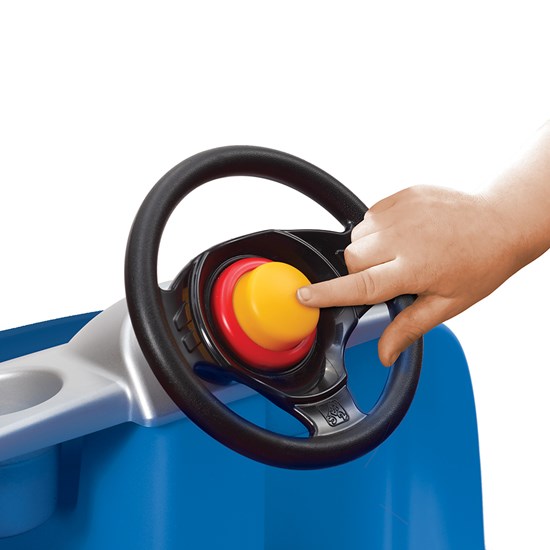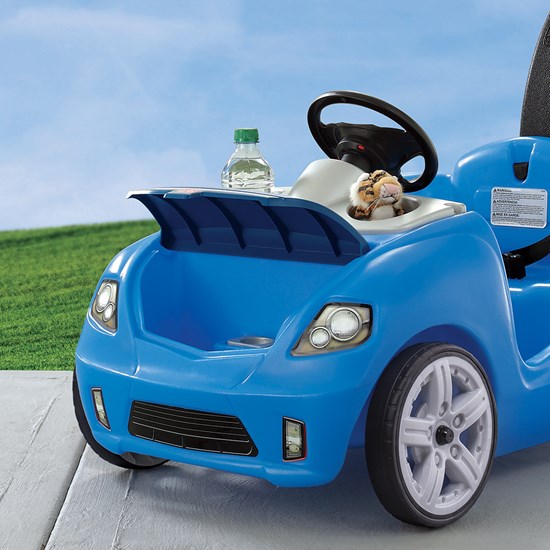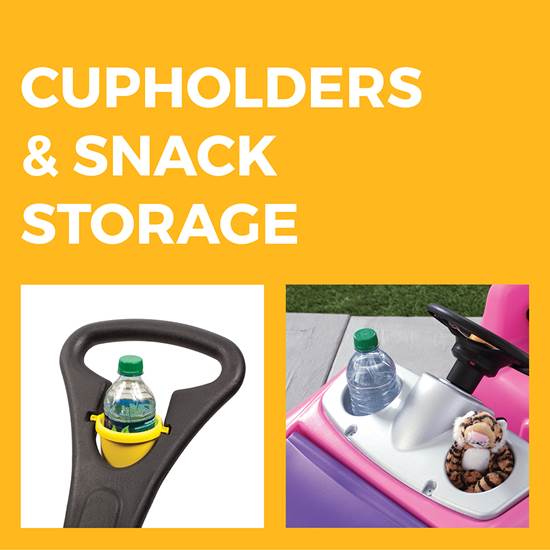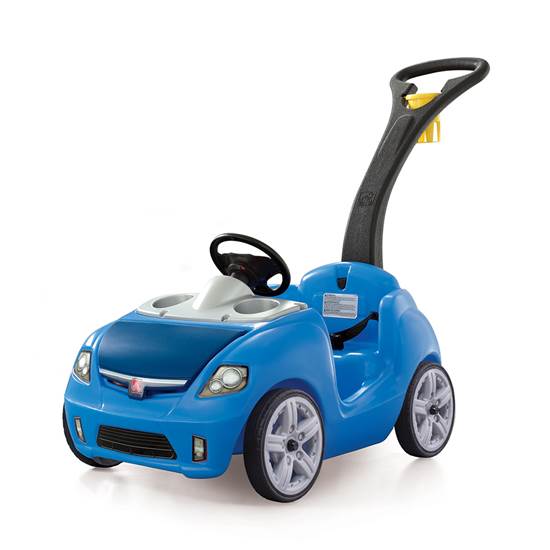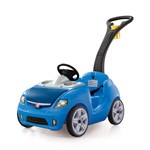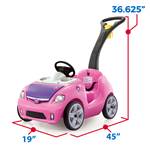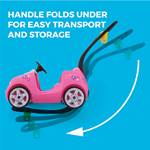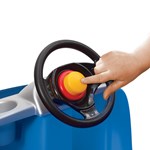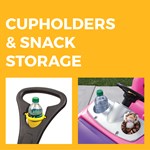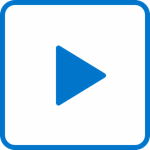 Whisper Ride II™
In stock
$79.99 $74.99
+$9.99 shipping (via FedEx)
IS THIS A GIFT? DON'T SPOIL THE SURPRISE!
This item ships with an image of the product on its outer packaging.
Rated 3 out of 5
by
Stephanie Con
from
Fun but not sturdy
We bought this for our 1 year old about 3 months ago and she has loved taking walks in it. It was a bit of a pain for my husband to assemble but he didn't mind since our daughter was so into it. Unfortunately, it recently broke after a slight wind pushed it into our car. The steering wheel snapped off SO easily. It's unfortunate that the plastic is so cheap and flimsy that it would break like that after only 3 months of use because my daughter does love the thing. I would probably have bought a push trike instead, had I know it was so flimsy.
Date published: 2017-05-02
Rated 5 out of 5
by
Anonymous
from
This buggy saves the day, and the novelty doesn't wear off!
This buggy is my sons favorite toy and makes our live so much easier. He pretends he's driving a car and loves to point things out as we go along. It is lightweight so is often used in preference to our stroller. The convenient front storage and cup holder make it perfect for strolling around my neighborhood and taking my toddler to music class and the local playgrounds. Perfect for non-walking kids and a great back saving substitute for a baby carrier
Date published: 2017-01-24
Rated 3 out of 5
by
Anonymous
from
Whisper ride two
Great for kids who do not want to sit in their stroller for long periods of time, the item itself if pretty bulky and doesn't fit well in trunks like the pictures leed you to believe and the parent cup holder is flimsy and hazardous. The first time we used it I had a cup of ice and soda and put it in the cup holder since that's what it's there for and the entire cup flipped over and fell on to my daughters head and back, she didn't get hurt or scared but what If that was my cup of hot coffee!!! Now we NO longer use the cup holder!!
Date published: 2012-10-20
Rated 4 out of 5
by
Anonymous
from
We love this car
My 2 year old won't ride in his stroller anymore. He received the Whisper Ride for his 1st birthday. At this point, when we go on outings, whether it is a walk to the neighborhood supermarket/park/library or a day trip to the zoo his Blue Car is his preferred mode of transportation. I get so many smiles from people who see him riding in it. My diaper tote fits in the hood and the cup holders are great for drinks and snacks. The seat belt is essential. Assembly took me a while initially, but was easy overall. The only thing I would change about the design would be to add panniers or some other storage option for a lunch box and change of clothes. Then I wouldn't need to wear a backpack for longer outings. None of the cars on the market offer something like that, though, so I would say this is the best there is. I love the simple, sleek design.
Date published: 2017-03-22
Rated 4 out of 5
by
DebbieD
from
Whisper ride II
I really bought this product so I can go on walks without having to put my daughter in her stroller. She's already 2 and a half and would rather walk than be in there, but she stops too frequently and walks slowly at times. But whenever she sees the cars at the grocery store she must get in, so this is perfect for us. She is a slim child, but she's tall for her age, so she looks a little uncomfortable in it(her knees are pretty much touching the steering wheel), but she loves it. The instructions are terrible and it took both me and my dad a while to get it done. It's only from reading other Q&As that I found out that part "K" is a tool and not a part. I love the fact that it has a cup holder for the parent, but I wish the handle was a little bit longer. I love the foldaway handle because it makes putting it in the trunk of your car a breeze.
Date published: 2016-04-27
Rated 5 out of 5
by
Mimi
from
Amazing product
This is my second Whisper ride iI purchase and I'm so pleased with it. I bought the first one for my grandson in 2015 and I bought another for my granddaughter in August 2019. These cars are so durable and easy to push, very comfortable with plenty of leg room and the compartment holds so much. The adjustable belt is perfect and is a great safety feature. Best purchase and a wonderful investment for my grandchildren,
Date published: 2019-09-10
Rated 1 out of 5
by
PeaDaddy
from
Poor instructions and missing parts
The instructions for this toys are confusing at best, just pictures, no descriptions. And the pictures lack details to understand how the parts are oriented when you're assembling them. Also, there were holes drilled in the plastic they weren't completely drilled out, or the hole was too small for the part to be inserted. I had to file out a bunches of the holes.A final insult to injury, parts were missing. All the screws for assembly weren't included and I need to contact customer service for replacements.Overall, very disappointing.
Date published: 2013-04-02
Rated 3 out of 5
by
Quelindanjel
from
Cute look hard to steer
I had the original red yellow and blue buggy for my ten year old. This one I bought for my now 5 year old when he was 1. I hate it when I took it out places with me and there were a lot of people it was really hard to steer and move around. The red one seemed really easy to move.I now have a six-month-old little girl and want to get one for her that is a girly color and easy to steer.
Date published: 2017-05-07
Rated 5 out of 5
by
JenJen
from
Love this! highly recommend!!!
I bought this originally for my son who was about 8 months old at the time, I wanted something other than my stroller to use that he could have fun with on walks. I couldn't get a wagon because he would still try to climb out. This was perfect it has a seatbelt so he doesn't fall out and he loves the steering wheel and the horn when we walk.This was perfect for when we went to the zoo too.Even at almost at year he still loves it.It's not the smallest thing to transport in a car but the handle does fold under to make it smaller which is a plus.I love this car and highly recommend it to anyone.It has a trunk to store snacks or whatever you need to bring and has cup holders for the baby and for you.Handle is at a great height too where you don't feel like you have to slouch to walk with it.
Date published: 2016-04-28
Rated 5 out of 5
by
Anonymous
from
Very satisfied!
This was a perfect "Easter Bunny" gift for our 17 month old son! He absolutely loves it. He literally climbs in and out of his car multiple times a day, and beeps the horn when he's ready to be pushed around!!. We push him in the house, but this is perfect for a walk outside on a beautiful day. The steering wheel assembly was the only thing that gave us a little trouble when putting it together, but we called Step2, and they were more than willing to help. We are very satisfied customers!
Date published: 2013-04-11
Rated 2 out of 5
by
Lucky7
from
Love this car, but definitely not Whispering
We had the smaller buggy and loved it, until the steering broke. We ordered this one and I love it other than the squeak that does anything but whisper. Also the handle doesn't unscrew after only a few uses, so transporting it is difficult. This is our number one choice for anything related to long walking. Would love if Step 2 would replace it for one that holds up to the name and description. Other than that, if it's made the good way, Every Little Kid should have one!
Date published: 2019-12-14
Rated 4 out of 5
by
Anonymous
from
Fun and sturdy little car.
My one-year-old grandson loves to ride in this car. We go for walks on the unpaved back roads and lane. It also can be used on the grass, and inside the house when the weather isn't good. The wheels are quiet and it rolls smoothly. Even though the wheels don't pivot, it steers easily. The push handle is comfortable and at a good height, and the storage compartment is very handy. It is a little wider than expected, but that makes it more roomy. Great little car!
Date published: 2014-05-16
Rated 3 out of 5
by
Grandpa
from
Good Product, BUT
Once finally installed this product is good. BUT the assembly instructions are terrible. The diagrams are so dark you can't tell what parts they are and there are no written instructions other than words such as HOLD or SNAP. Come on guys get some proper instructions for your product.
Date published: 2019-10-26
Rated 4 out of 5
by
Allison's Mom
from
Fun and Convenient
Bought this for my son 7 years ago and so I bought a new one for my daughter in pink! Purchased from Step 2 website to get the latest version and ensure quality. Handle was not as sturdy as the one from 7 years ago and the package was missing a piece my husband purchased at the hardware store and the stickers were all stuck together so we could only use a few. Otherwise our daughter loves the car and it keeps her occupied when we are out and about.
Date published: 2014-06-20
Rated 5 out of 5
by
Anonymous
from
My boys riding in style with the whisper ride II
Easily put together, love that the handle folds for easy storage and transport. Baby boy has the time of his life in it. His little hands went right to the steering wheel. He fits very well and the seat belt is secure with plenty of room to grow I to it. Awsome for summer trips outdoors or long shopping trips. Very easy to maneuver. The only problem I have with it is once he's inside he dosent want me to stop pushing him and never wants to get out.
Date published: 2017-01-02
Rated 5 out of 5
by
Anonymous
from
Best ride on toy!
This is the best toy our two little girls for for Christmas! We had a couple of little ride on toys that our girls didn't like to move their feet to ride around so we had to push them and it was SO backbreaking. This toy has been a savior and we actually look forward to pushing our girls in it. I would definitely recommend it and it is a reasonable price (despite the fact that most toys are not)...and we will certainly be getting our money's worth!
Date published: 2017-01-18
Rated 4 out of 5
by
Anonymous
from
Very good
Our son loves it so much , this one is very Quiet , we have another one with different wheels , that one is smaller and more noisy on the road , the only problem is the storage is a little small ( the other one has more space ) because they added 2 cup holders , some kind of design inside the storage so it is not flat in there , can't really put stuff in there , other than that it is a great piece , we all love it .
Date published: 2013-02-21
Rated 4 out of 5
by
Anonymous
from
Whisper ride push car
We use the whisper push car to take our grandson to the mailbox at the end of our very long driveway because he is too heavy to carry. He loves it so much that we end up going further. We have just met all our neighbors since we purchased this gift for our grandson and we've lived here 25 yrs. people just can't resist coming out to meet the little fellow who takes his grandparents for a walk everyday
Date published: 2014-07-08
Rated 5 out of 5
by
M.
from
An excellent gift for our granddaughter!
This has been a huge hit with our 17 month old granddaughter. I had it shipped directly to her home and her parents tell me that she constantly wants to ride in it. My son says that the wheels are very quiet and that the cup holders are very convenient, especially when they walk to their local playground. Love getting the videos and pictures of our little one smiling and laughing in her car.
Date published: 2017-05-31
Rated 5 out of 5
by
Momlovesreviews07
from
Great Product, my daughter loves it!
I received this as a Christmas gift for my daughter. It was very easy for me to put together by myself. She enjoys this so much more than being pushed in the stroller while we go on our walks. My favorite part about this product is that the parent handle is a great height. I'd consider myself tall at 5'8 and I have no problems pushing the buggy. Thank you for a great product!
Date published: 2018-02-26
Rated 5 out of 5
by
Pat247
from
Pink Dream Car
Our grand daughter is very excited to have her "dream car" lol. Her cousin has the same car so this summer it will be fun to see the two cousins together in their cars. The only downside is that our son in-law said that the assembly was more involved than he anticipated, more parts to put together, decals etc. My husband and I were hoping the assembly would be a lot easier.
Date published: 2018-03-27
Rated 5 out of 5
by
Mommy Testers
from
Wonderful Improvements to a Classic!
Having owned the original Whisper Ride I can say that this new version keeps all of the things we loved and adds a bunch of great new features like:-A trunk that prevents little fingers from getting stuck in the hood-Extra cup holders for the child to keep both a snack and a drink at hand-A great parent cup holder that swivels to prevent spills-A wider body to extend the life of the car (my almost 4 year old wouldn't get out)-An easy to stow handle so traveling with this in your car is feasible and quick.Assembly took about 20 minutes including the "help" of the 4 year old so alone it probably would have taken 15 minutes. The directions are pretty clear and mostly pictures. The Whisper Ride II feels sturdy and like the older model, the tires make it a one of a kind ride on toy.If you're debating about whether to spend a little extra money to have this model versus one without the Whisper Wheels let me say that you will not regret the expense. These tires eliminate the very loud sound of plastic scraping against pavement and make for a smoother ride for your child.I am part of the Step2 Test Drive Mom program and I was sent the Whisper Ride II to facilitate a review however I had already purchased one as a gift for a family member because this is truly a great toy which I will continue to gift because it makes an awesome first birthday present!
Date published: 2012-10-04
Rated 5 out of 5
by
GrandMa Denise
from
Cute Cruiser
Nice little car which we bought for my Grandson's 1st birthday. Easy to put together. Like a "stroller" car because the steering wheel does not control the wheels. The parent pushes the child in this. The wheels are coated in a thin coating of rubber so it does sound quiet on the pavement. The seat belt gives the child security & safety while they ride. Lift up hood allows the child to store something inside. 2 cup holders for child. One cup holder on handle for parent. Overall .... nice little car for a younger child.
Date published: 2020-08-20
Rated 1 out of 5
by
Mima
from
Bad product
What a disappointment. After opening the box and taking out all the parts, I looked for the assembly directions. None were found. After a lot of searching online, I found the directions. I opened the bag with all the parts and realized I was missing the necessary pieces to hold the wheels in place. Obviously I was going to have to return the buggy. What a waste of time this vehicle was. Will never buy another one this company's products.
Date published: 2018-06-04
Rated 1 out of 5
by
Vishal
from
horrible experience
This product is very difficult to assemble. I spent 2 hours in assembling it. I was unable to..The diagrams and descriptions given to help assemble are useless. I searched videos and forums but did not get any help. I retruned this product. Bad bad bad....
Date published: 2014-09-11
Rated 1 out of 5
by
Orlando
from
Steering Wheel
The steering wheel column breaks easily.
Date published: 2016-03-12
Rated 5 out of 5
by
C5natie
from
Great Fun Product
Just bought this for my 13 month old son and he absolutely loves it. Its well built and seems like it will last many years. It was easy to assemble and included spare parts for future repairs if needed. Its very easy to clean as wee and I like that it has a belt to safely hold the child in. The wheels are also very quiet and will not scratch up wood floors. Great fun product.
Date published: 2015-12-22
Rated 5 out of 5
by
Anonymous
from
No brainer
I did my research and bought 1 and return it to get this particular car for my son. We really like this one mainly cause it's very easy for him to get in and out, notice the room for them to step in out. (Not up and over). I also wanna to add that it is wider the most for more stable rides. IMO it's the best cause it will cause less accidents, which all us parents want :)
Date published: 2016-12-25
Rated 5 out of 5
by
tambibambi
from
Love!
My daughter absolutely loves cruisin around in her car on our walks!! she honks the horn and steers and makes car noises. It's easy to maneuver ... turns are a bit tricky. Love the cup holders, there's even one for mom or dad! My only complaint was it was missing the cute decals, but I contacted customer service and not even 24 hours later they had a shipment on the way!
Date published: 2017-08-09
Rated 5 out of 5
by
ck
from
Solid toy, daughter loves it.
I'm not sure why some people are saying its hard to assemble...I had it assembled with the stickers on in about 20 minutes. Nice product, came with a few spare parts. Our daughter loves it. We've used it on both grass and pavement and it works well on both. We took my daughter to the beach every day in it on vacation this year. Would recommend it to any parent.
Date published: 2015-10-28
Is there an umbrella available for the step2 whisper ride
Can't tell if this has posted. No umbrella. She wears long sleeves and a spf 50 wide brim hat. 
Date published: 2021-04-01
What can I do if I overtighten part 31? How can I remove it off?
You can use a pair of vice grips and a little cooking oil. Put the cooking oil at bottom of area where it is screwed in then grab with vice grips and turn.
Date published: 2021-01-19
What is the difference between this car and the sportster
The Easy Steer Sportster™ features a retractable caster wheel provides 360-degree turning capability where necessary.
Date published: 2020-12-11
Is there somewhere we can purchase replacement parts? My niece loves this car but the screw fell out of the handle and we can find it and now we can no longer use the car. :(
I don't think you can but soon enough she will ride by herself. You don't need the handle for long.
Date published: 2020-11-15
While turning over the car to dump rain water out, the steering wheel broke off, I see that it can be replaced, can I but the steering wheel and parts holding it onto the whisper ii riding car
Replacement parts and decals can be ordered by calling our Customer Service team at 1-800-347-8372, Monday - Friday, 8:00 am - 11:00 am and 12:00 pm - 5:00 pm EST. Please have your product close by during your call so that we may quickly assist you to answer your question, find a resolution and or provide product or part pricing and lead-time(s).
Date published: 2020-09-11
It won't let me pick pink!
The Whisper Ride Buggy II is currently on back order. We suggest checking back at the end of August.
Date published: 2020-08-18
I am trying to purchase a blue whisper ride 2, I only see a pink on the website. Can you please send me a link to my email? His Birthday is next week and I really think he would love it!
The Whisper Ride II™ is now available in blue.
Date published: 2020-08-07
Are there replacement decal stickers?
Thank you for contacting Step2. Various replacement parts and decals can now be ordered on line. Check our website at www.Step2.com and refer to the replacement part section located at the bottom of the website page and shop parts by category or look up your product(s) pertinent replacement part choices. If the parts you need are not on website then you must please call in to order: Replacement parts and decals can be ordered by calling our Consumer Service team at 1-800-347-8372, Monday - Friday. Please have your product close by during your call so that we may quickly assist you to answer your question, find a resolution and or provide product or part pricing and lead-time(s). Regards, Step2 Consumer Service
Date published: 2020-07-28